Flag Etiquette Patch Program®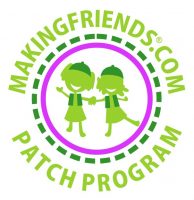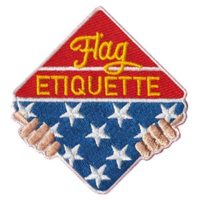 This 2″ iron-on embroidered patch is part of our patch program®.
Fun Fact: The first American flag was approved by the Continental Congress on June 14, 1777. There have been 27 official versions so far with stars added each time states joined the Union.
Take the time to teach your scout troop or youth group the proper flag etiquette.
Suggestions for how Scouts of all levels can earn the Flag Etiquette Patch:
Always make sure the flag never touches the ground, floor or anything below it such as water or other items.
During inclement weather, do not display the flag unless it's an all-weather flag.
Flags should be displayed only from sunrise until sunset unless it is well let after dark.
The flag should not be dipped to any person or thing. Not even to government officials.
The flag should be hoisted briskly and lowered ceremoniously.
In the United States, the American flag should always be in the front and center and no other flag should be placed above the American flag. If there are only two flags, the American flag should be to the right (the flag's own right).
On a platform, the flag should be above and behind the speaker.
The blue section is always to the observer's left.
If using a flag on a float, it should always be displayed from a staff, not draped over the hood, top, sides or back of any vehicle.
Flags that have become worn or are no longer suited for public display should be disposed of respectfully.
Learn about flag ceremonies and flag retirement ceremonies with our patch programs:
Flag Ceremony Service Patch Program®
Flag Ceremony Service Patch Program® (Square)
Flag Retirement Patch Program®