Haiti | Ideas for Thinking Day*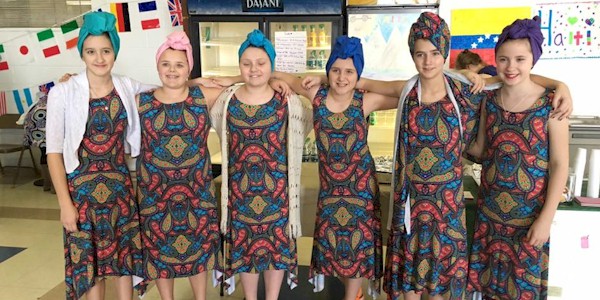 Troop 30770 represented Haiti for their celebration. They made these dresses and head wraps for their international food festival. Much of the world, including many troops, first took notice of Haiti in 2010 after the small Caribbean country was devastated by a major earthquake. When we saw the need for humanitarian aid there, troops pitched in to help in a variety of ways from donating cash to making ditty bags and blankets to be sent to the earthquake victims. Haiti was devastated again by a Hurricane in 2016 adding to the pain and suffering of it's brave inhabitants. MakingFriends®.com has ideas and products to help make your celebration a success.
Superhero Twilight will guide your girls with ideas, activities and facts for their Haiti presentation when they use our exclusive Haiti Download.
Fun Fact: Haiti occupies the western third of the Caribbean Island of Hispaniola. The rest of the island is the Dominican Republic.
Haiti Patch
2″ Embroidered, Iron-on

$0.99
Haiti Download
Ideas, activities and facts for your presentation.
$15.00
Girls who choose Haiti may realize that even after years of help from the outside world, Haiti is still suffering and is actually the most impoverished country in the western hemisphere. But, girls will also learn that Haiti's Creole culture includes a rich mixture of African, French and Spanish and influences.

A booth should celebrate the Haitians who survived the earthquake and the centuries before

.
Decorations and costumes for Haiti should reflect the brilliant colors and tropical climate. Food at your event should include native fruits from the lush landscape. Girls could base Haitian pins for swapping or crafts on the jungle animals which include several species of bats, snakes, frogs, birds and insects. Or, inspiration may come from the palm trees and ocean waters. Fishing drives the coastal economy and there are a wide variety of dolphins swimming off the shore of this small country.
Appropriate ideas for pins for swapping could include miniature straw hats and fishing poles. Other  ideas include our Haitian Pony Bead Flag Pin Kit and "Have a Heart" Mardi Gras Pin.
Additional ideas can also be found in Caribbean Countries / Thinking Day* Ideas.
*MakingFriends®.com is not affiliated with, endorsed by or a licensee of Girl Scouts of the USA