World Thinking Day Ideas for Large groups
December 27th, 2013 | By: jodi | Category:
World Thinking Day
| Tags:
activities
,
ambassader
,
brownie
,
cadette
,
crafts
,
daisy
,
games
,
junior
,
senior
,
World Thinking Day
Question from a Girl Scout Leader:
Meg Writes:
Looking for ideas for running multi-level Girl Scout troop World Thinking Day celebration. Especially ideas on the four focus countries for this year (Armenia, Egypt, Benin, & Bangladesh)…and ideas on how to keep it organized and fun for a group of about 200 ranging from Daisies to Cadette:) Any insight appreciated!
MakingFriends.com Help
To get some great ideas for different countries check out makingfriends website for craft, game, costume and more ideas for your event.
Stuck and not sure what to do for your next World Thinking Day Event. Troops from around the world share what they did at their event. 
Answers From Other Girl Scout Leaders Compiled from our Facebook Page
"We do it as a service unit and each troop selects a country to represent. We each have a display of items/ poster boards from that country and a little info on Girl Scouts / Guides from that country. We make a dessert and the girls get their passports stamped at each country and taste a small dessert if they'd like." Joanne
"Each troop picks a country. They do poster boards filled with info from their country and something snacky from the culture. Also, some type of quick craft. Each troop does some type of performance: dance, song, or skit. Our troop has each girl pick what type of info they would to bring in: Flag, religion, geography, nature, culture. Last year we did Pakistan. Our snack was like a chip. We did a dance. And for a craft we had tattoo/henna pens, so the girls could decorate their hands." Amani
 "We do the event as a service unit and it typically 8-10 stations that groups move from every 15-20 mins. We do food, crafts, dances or activities from the countries." Charlotte  
" We always have cadettes and older girls run tables with workshops for the younger ones, in sessions, the young ones get 'passports' for going from country to country…" Toni
"I run the event for my end of council and each troop picks a country. I send the info sheets that tell them what to do: passport stamp, food taster, display board, outfit representation of country, make flag for flag ceremony, can do craft or sing song or dance. " Lisa
"Have a food to try and a short activity fun for each country that's applicable to all ages." Katie
Did you enjoy this article?
Subscribe for Updates
Sign up for our email list and never miss a Girl Scout Idea again!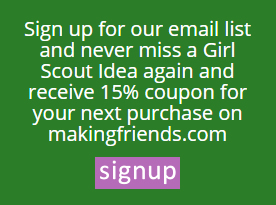 One response to "World Thinking Day Ideas for Large groups"