World Thinking Day is a very big part of Girl Scouting traditions. Over the years my troop has had many different types of themes. Today I'd like to share just a few.
100-Year Anniversary Celebration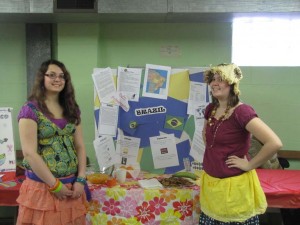 Last year we held Thinking Day with all the local troops for the 100thth year of Girl Scouting. Each troop was responsible for a country by decorating their table with poster boards with facts about the country and any other decorations they chose to include. Each girl brought SWAPS related to their chosen country. We also had each group bring food to share from their country.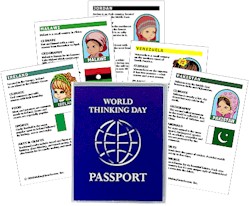 When the girls arrived they each received a blank passport. Each country had a pile of fact sheets that the girls collected as they visited each country. Get your passport and fact sheets.
One of the Cadette groups at the event had donated puppets and puppet stage to our local library as their Silver Award project. The library came to perform at our event as a thank you for such a wonderful donation. They reenacted some highlights of the June 100th-year sing along in Washington since many of the girls in the area were not able to attend. The performers had a few of the girls help out behind the scenes.
At the end of the event we put one of the Ambassador girls in charge of the group and she taught everyone the IGNITE flash mob dance that was going to be preformed at Rock the Mall in Washington. Leaders and girls had a great time performing the routine.
Foreign Exchange Students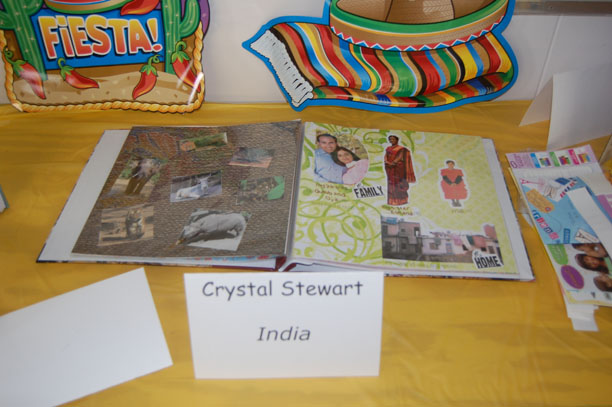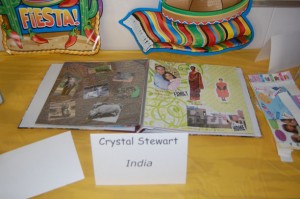 We gave each girl a country and she had to come to the event as a foreign exchange student from that country. We had some girls really get into this, they made scrapbooks as if they really lived and grew up in another country.
I have been doing Thinking Day for 22 years so I have done different variations on this. When the troop was smaller, we did a foreign exchange student tea party, and presented each girl with a corsage. The girls each had an opportunity to stand and do a presentation about what it is like living in their country compared to USA.
Birthdays Around the World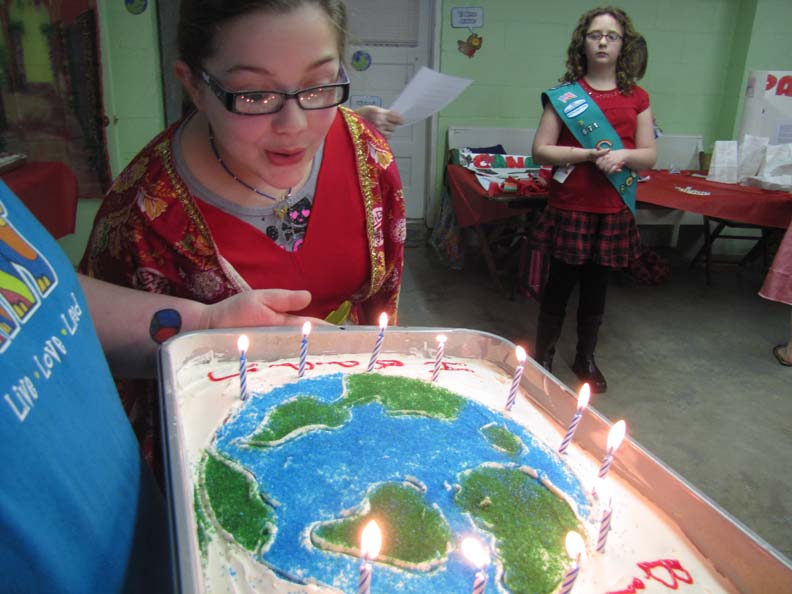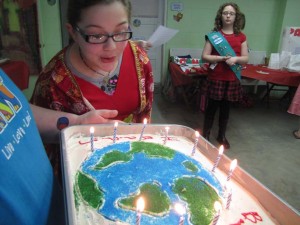 We have done Birthday's around the world and celebrated everyone's birthday with a cake.
Birthday Tradition Examples:
Brazil – Pull on earlobe the number of years that girl has been alive
Canada – Greasing the nose with butter, making her to slippery so bad luck can't catch her
Nepal – Mark on forehead mixture of rice yogurt and food coloring – will bring good luck
Panama – Piñata – fill with candy have girls take turns trying to hit it down
And there are many more with a little research you can come up with quite a big list.
One way to run this event is to sit everyone in a circle and one at a time each girl picks a country out of a container. Once they have read the country out loud share with everyone the tradition for that country and then perform or give that girl a gift depending on the traditions in that country.
Christmas Around the World
This Thinking Day theme has the same premise as the Birthday idea. We played games and activities, teaching the girls about Christmas and how it is celebrated around the world.
Christmas in Scotland
On Christmas day, people sometimes make big bonfires and dance around them with bagpipes being played. We created edible fires and then played a recording of bagpipes for girls to dance around the table (fire) to the music.
Games for Any Thinking Day Event
Throwing the Square
This is a traditional Chinese game played by two people or two teams. A rectangle of about 24 by 12 inches is cut out of paper and then divided in two so there are two squares side by side. Depending on the ages of the girls, a marker is established a reasonable throwing distance from the squares. Each player has an object to throw, such as a bean bag or a cardboard disc. They take turns throwing their object into the same square their opponent has placed their object. A player is awarded two points for doing so or one point for throwing into the empty square. The winner is the first to score 10 points
Lolly Relay
To play Lolly Relay, girls are divided into two or more equal lines. On the count of three, the first girl in line has to put on a pair of mittens and unwrap a lolly, which is Australian slang for candy. Once the candy is in her mouth, she passes the mittens to the next girl. The first team to have all of their lollies unwrapped wins.