This week's post comes from many troops around the USA celebrating Thinking Day.
Girl Scout World Centers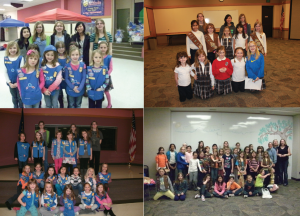 Our Troop 10157, consisting of 20 high school girls, does Thinking Dayprogramming for younger troops in our Service Unit #109, between five and ten a year. We sing songs from the World Centers that we got off Melinda Carroll's CDs. We talk about Juliette Low and Colonel Baden-Powell; and we have crafts, coloring pages, stories and projects that go with each year's theme. The younger girls just love having the high school girls come to see them and the older girls love seeing them.
I am attaching several pictures. I can never get all 20 girls anywhere at once, but you can see some of them in each of these pics. Submitted by: Jayne Kranc
THINKING DAY IN ENGLAND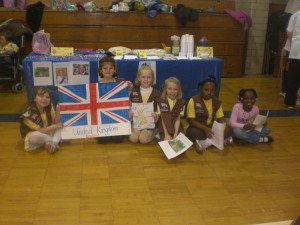 At our World Thinking Day Service Unit event. Each troop selects a country to represent each year. They study the country, create a skit to present about Girl Scouting in that country, make a food and drink and craft to represent the country. There is also a parade of Flags. Two years ago we represented England.
This year we are studying Argentina. We have pen pals in Argentina and we are learning more in depth about Girl Scouting in Argentina. We will be sharing Dulce De Leche Girl Scout cookies, making a traditional tea, and a few swaps representing Argentina based upon conversations about what the girls in Argentina like 🙂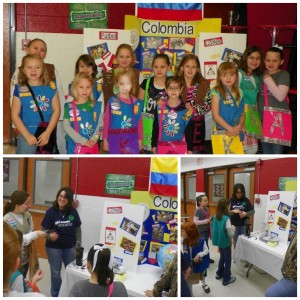 Submitted by: Troop 70954


Thinking Day in Colombia
We are Troop 2737 from Kingston Springs, TN. Last year for WTD, we tried our best to represent Colombia. We did an educational skit and we had a coffee bean grinder…….our fresh ground coffee beans were a hit.
Submitted by: Amanda Lane Leader Troop 2737
Thinking Day in India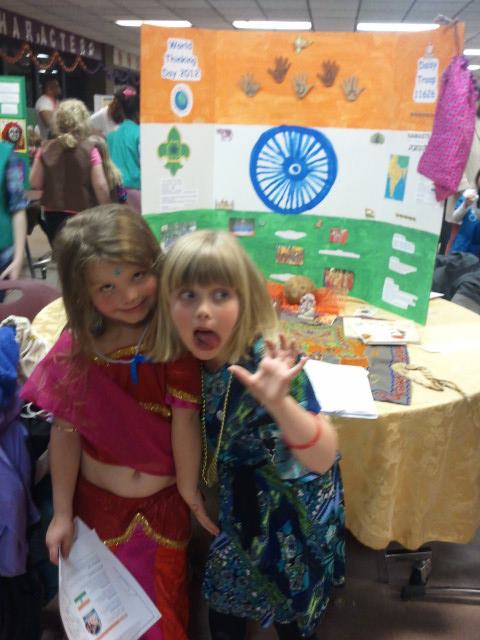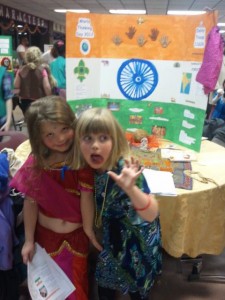 Last year our troop learned then taught about India! The girls sponsored a little girl in India. They did Henna for fun and ate some Indian Dishes! The girls were really into it. When it was time for our Service Unit WTD Event! They got dressed up and passed out SWAPS from their Country!



SWAP GIRLS DID FOR INDIA!
Submitted by: Kristen Mabey
Thinking Day in Japan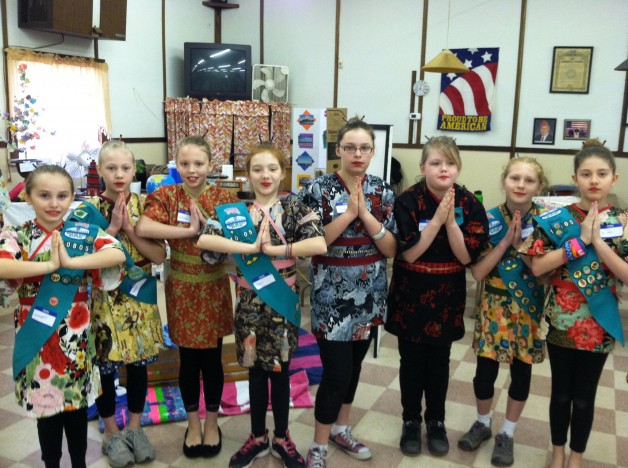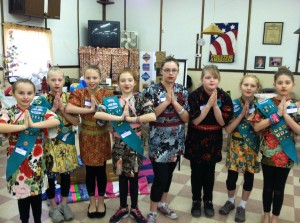 To celebrate Thinking Day each year, our Community has an International Festival. Last year our Troop represented Japan. They wore kimonos sewn by one of their grandmothers. They served dumplings to the other troops and told them all about Japan. Our station was a big hit! This year we will be representing Venezuela!
Submitted by: Maria Ettner
Thinking Day in Cyprus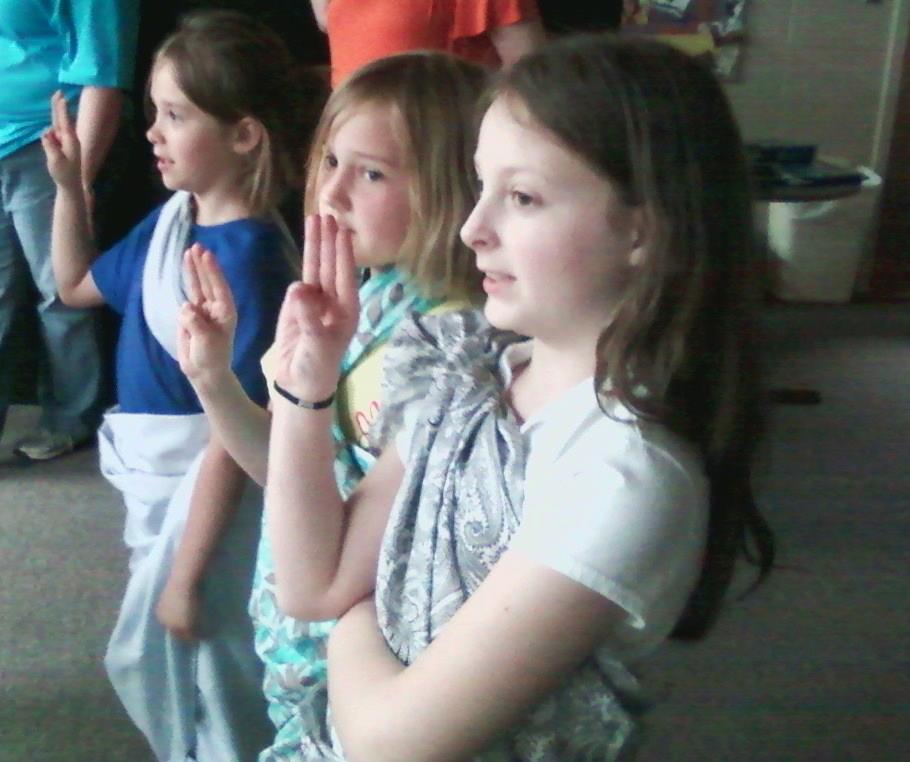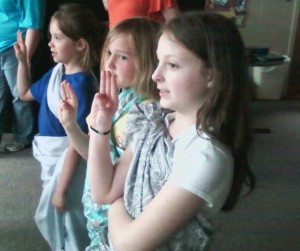 Our troop did Cyprus in 2011 and we focused on their Greek influence a great bit. The girls "attempted" to wear togas (as shown in the picture). We had a craft and made mosaics but we used popcorn kernels that had been spray painted different colors. We also served hummus and pita chips. The girls seemed to have liked the hummus because it was pizza flavored!
Submitted by: Juanita Wade
Thinking Day in Mexico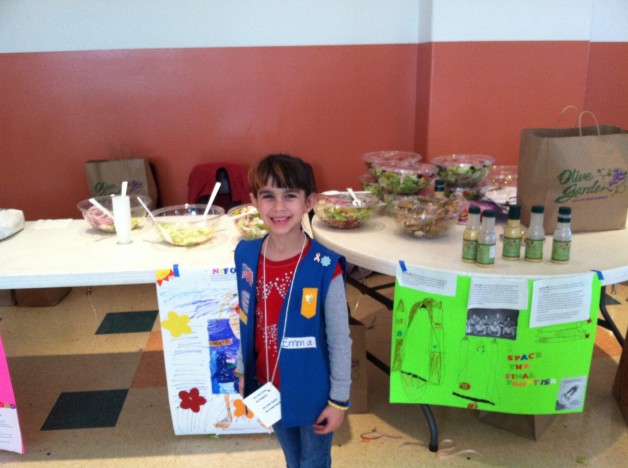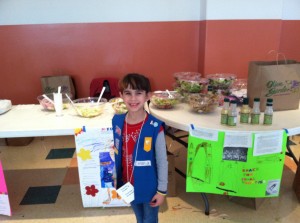 Thinking Day 2012. This is my daughter (who was a Daisy last year). Our Service Unit made our Thinking Day about the last 100 years in Girl Scouting. It was also the 100th birthday of the State of New Mexico (where we live!). Each troop had a booth representing a different decade. A food from the time, a craft, they dressed their parts, and made displays with all sorts of stuff AND Girl Scout Memorabilia from their decade. Somebody made the ORIGINAL Girl Scout cookies, and handed out the recipe. We had a Sock Hop and a Hula Hoop contest. It was a BLAST! The girlies learned a lot that day!
Submitted by: Amy Voisine
Thinking Day Celebrations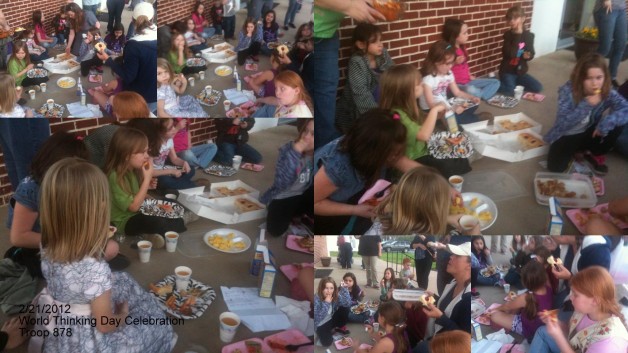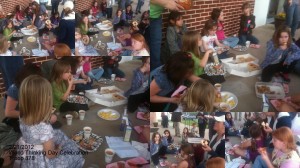 Part of what we do every year, each girl picks a different country and does a oral report or a poster about her country. She also brings a treat from her country as well.
Submitted by Jessica Spurr Hallett

Are you looking for Thinking Day help, ideas, crafts or just some inspiration? Check out the Thinking Day Idea section of Makingfriends for some great idea.