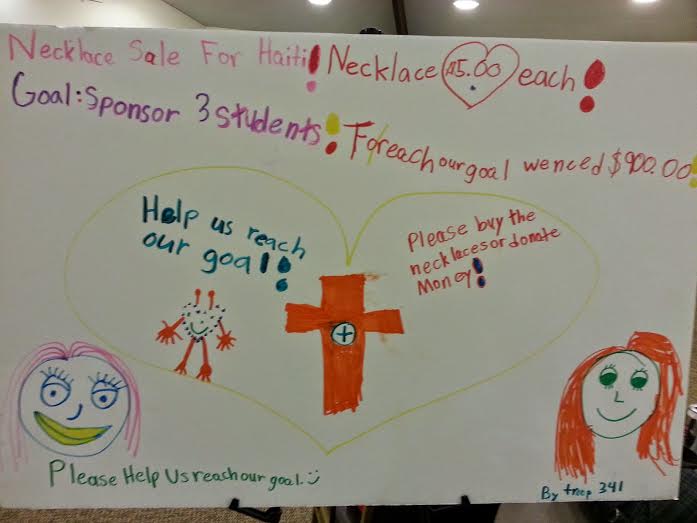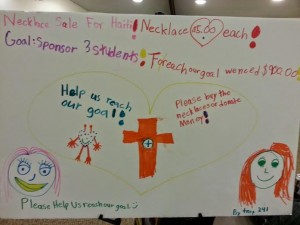 Never underestimate some cast-off jewelry and a bunch of fourth-grade girls.
This is the story of how trash became treasure and a life-changing moment for some girls in Indiana and in Haiti while working on the Junior Jeweler badge.
What started as a simple project for our Junior Jeweler Badge became an act of love and a major fundraising effort for scholarships for children at our mission church in Haiti.
Yes, our girls learned about creating unique designs from unwanted necklaces, but they learned more. They learned about how seemingly small efforts can build together and make a difference.
Our assignment? Design a necklace for yourself and one other person (meeting two of our Jeweler badge requirements, one to make a piece of jewelry, and the other to make one to share.)
I was floored when one girl asked if we could sell them for Haiti. And even more so when the rest of the troop agreed.
They spent the remainder of their meeting in a flurry of Modge-Podge, scrapbook paper and old circular charms. The girls lovingly created nearly 200 necklaces for a sale to benefit our Hearts for Haiti program at our parish, which in part provides scholarships for Haitian children to attend schools at St. George's Catholic Parish located in Bassin Bleu, Haiti.
Dreams Across Cultures
But it didn't stop there. Our jewelry adventure wound up spanning multiple continents. As we later talked about jewelry, what it symbolized and what it was made from, I shared some stories and jewelry from Uganda that I recently received from Ember Arts, a company that works with jewelry artists in Uganda to create upcycled jewelry with paper beads that are just gorgeous. As I shared the story of some of the artists – some of whom used to earn $1 per day in hard work – the girls' response was "Can we help them too?"
Ember Arts shared with us their business story and tips on what impacts the price of jewelry – from supplies to marketing to time investment. Inspired by their idea and business lessons from Ember Arts, the troop set pricing, learned about marketing (as in, no we don't need a website for a one-time sale, but there are better ways to spread the word), and set a business goal.
The girls dreamt big.
Inspiring through Our Art
It was a reach, but we hoped to sell enough necklaces to raise enough for three scholarships for students in Haiti. Our eye-opening moment: A year's tuition was a mere $300 compared to American standards.
We didn't quite make the full three scholarships, but we were inspired. And inspired others. Tens and twenties were dropped in the donation jar and as the church service times passed, our goal reached higher….
Four services later, these girls raised more than $700 – allowing for two students to attend school worry-free for a year. We're proud. But we're even prouder of the kids in their class, when the results were announced at school, who want to do something too.
Maybe jewelry in itself doesn't change the world. But perhaps the stories behind them can change hearts.

Makingfriends.com Badge in a Bag Jewelry Kit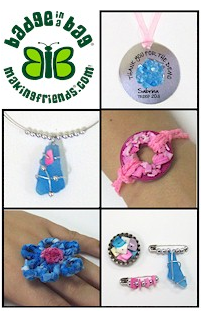 Additionally you can earn the whole badge using the Junior Jewelry Badge In A Bag® from Makingfriends.
This Badge in a Bag® is designed to inspire your girls to be creative while completing the Junior Jeweler badge. They'll have plenty of supplies to explore techniques and try new things to make their own creative pieces. Each girl will be able to make a whimsical Thank You card as well as a necklace, a bracelet, a ring and three pins to used as swaps or give as gifts.
Projects for Each Girl:
1) Make a Whimsical Thank You Card
2) Make Metal Jewelry from Metal
3) Turn a Everyday Object into Jewelry
4) Create Jewelry Inspired b Another Culture
5) Make Three Pins to SWAP or Give as Gifts
Robbie Schneider is a Junior leader and Cub Scout Mom in the Midwest. She blogs at https://going-green-mama.blogspot.com.