submitted by Kelly Prescot, Troop 5563
Operation Education: Troop 5563's Bronze Award Project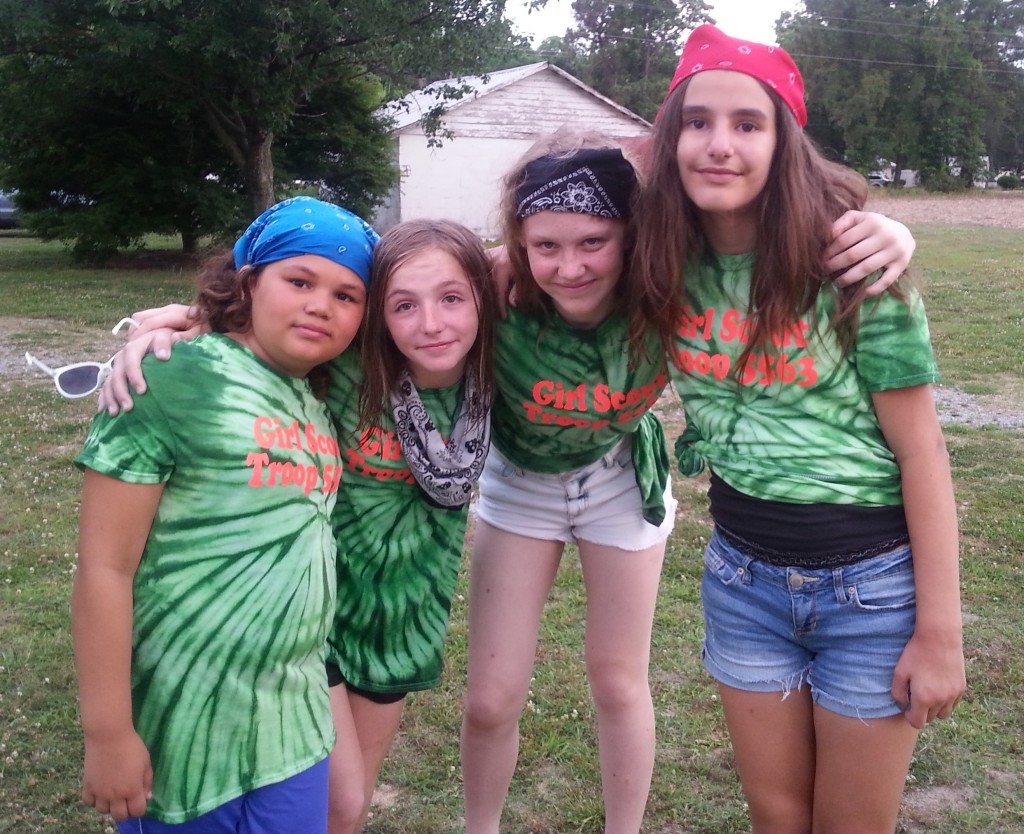 We started our project soon after the completion of our Journey on January 18, 2014. We finished the Agent of Change Journey. It was good for us because we learned how we can make changes by working on our own, together, and with other people we know. We would use this knowledge throughout the project. We finished our work with this report on May 24, 2014.
To start, we talked about a lot of ideas. We were working on Thinking Day at the same time, and we tried to figure out a way to work the theme of Education with our project. We talked about why some kids do better in school than others, and why even some adults have trouble reading. We learned that we didn't have to look far to find kids who needed help, or didn't have any books of their own. If you don't practice reading, you'll always have trouble with it. If you can't read, you won't go very far in life. So we decided to try and get books into the hands of kids who needed them.
Use the Power of the Community for Help
Then we had to figure out where we were going to get books. We used the Power of Community and decided to reach out to friends, family, and others to ask for donations. We made collection boxes and planned to put them in schools, churches, and local businesses. We even used our Scout network by asking our sisters to bring books to our Service Unit's Thinking Day.
We collected books until the end of April. Then we sorted them out by age, subject and condition. If the books were in bad shape, we recycled them.
Who Do We Help – Distributing the Books
We had to figure out where the books were going. We had discussed places like the children's hospital. Then we heard about a reading program in our city from an article in the local newspaper. Run by a local church, it was called Book Buddies. The program reaches out to kids in the area who need help with reading skills and tutors them after school. They have all volunteers teaching the kids, and many kids in the program. We thought they might need some books, too.
The pastor's wife heads up the Book Buddies program. She is a teacher in a local school district. When we called, she was very happy to take our collected books. She invited us to tour the program, where we got to see the students work with their tutors, play games, read poems and rhymes together, and learn ways to read better. They told us that the program has been very successful in its first year and that they are expanding it to help more kids. They were planning to use some of the books to give to the kids as a prize at the end of the program.
We got adult-level books, too. We didn't know what to do with them because they weren't right to donate to kids. So we discussed where adults might need books. One of our leaders is a Navy Chief. She told us that when she travels, she borrows books from a kind of library that the USO keeps in airport terminals. She picks up something interesting, takes it with her, reads it, and drops it off at another USO for someone else.
We already knew someone at USO. She said that they could definitely use the books, both for the airports and to send to soldiers and sailors stationed overseas. It felt really good to be able to send books to the soldiers. We sent nearly 100 books, and we brought at least that many to the church, too. Very few were recycled.
Bronze Award Challenges
We had some problems while working on all this. Snow canceled meetings and that slowed us down. So we had to do more on our own outside of meetings to finish.
Many schools wouldn't let us put collection boxes out. We talked to our principals and headmasters and only two of us were allowed to put boxes in our schools, even though schools should want to support reading. So we used our networks again and asked other places if we could place boxes for collection.
What We Learned From Project
We learned a lot from working on this project. Like honoring commitments that you make. We depended on each other as a team. It wasn't fair to say that you were going to do something and not follow through. Also, teamwork makes it a lot easier to accomplish something. Some work we did by ourselves, but it was easier with help.
It's good to appreciate what you have. We all like to read and our parents ensure we have lots of books available. You don't realize how lucky you are, or how it feels when you can't do something as well as someone else.
We lived the Girl Scout Law by:
Making sure that people knew what, who and why we were collecting books. (Honest and Fair)
Making sure that people donating and receiving the books didn't have to do any work. (Friendly and Helpful)
Not pestering people, and when we were allowed to put up collection boxes, making sure that they wouldn't be in anyone's way. (Considerate and Caring)
Asking even when it wasn't easy. (Courageous and Strong)
Doing our jobs as needed, even if we had to be reminded. (Responsibility.)
Making sure that nothing that could be considered offensive was donated to our groups. Like, no teen books about vampires in the box for the church. (Respect Self and Others)
When schools wouldn't let us place boxes, not arguing and honoring their policies. Plus listening to our leader's suggestions or refocusing on tasks. (Respect Authority)
Recycling books that were too damaged to donate. (Use Resources Wisely)
We hope our donations made a difference to the kids in the reading program. We also hope that the adult books made someone's day better. (World a Better Place)
Working together, helping each other and doing our share. (Sisterhood)
Completing this project: Madison B., Amber D., Layne P., Jessica C., Sarah H., Caroline P.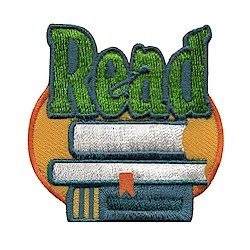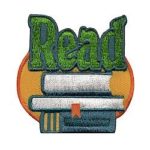 The Read fun patch makes a great reminder for your troop service project promoting literacy.
About the Leader: Kelly is a former Girl Scout dropout who finally made it to Juniors after a 38 year hiatus. She is enjoying teaching her Scouts about the arts, the outdoors, and why it's important to be able to make a fool of yourself every once in a while. She's a married mother of a Cadette, a graphic designer during the day, and a rather good dog hair magnet.