submitted by Troop 80067

Police Officers risk their lives each and every day when they go to work protecting their community. However, our 4 legged officers are not as protected as we would think. Many K9 officers do not have the same bullet proof vests as our human officers due to lack of funding.
Therefore, Troop 80067 in Chambersburg, PA set out to make a change. They used their cookie/fall product money to purchase 2 bullet proof vests for their local K9 Officers. The vests cost $1050.00 each and all the funds were raised within one Scout year.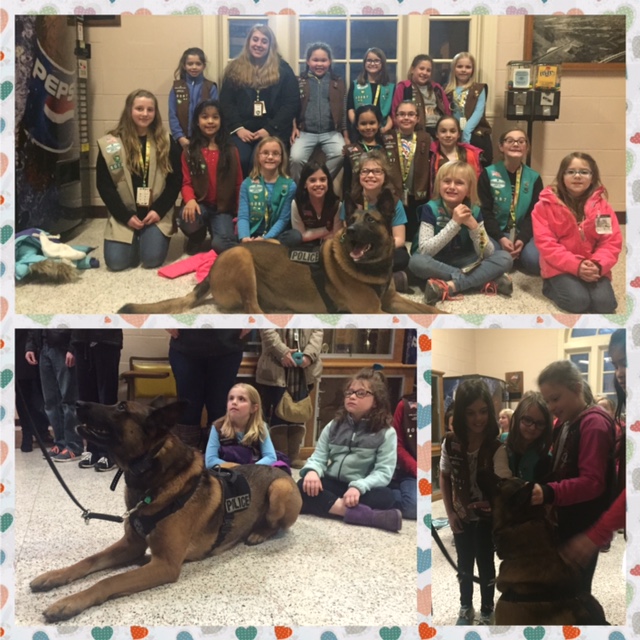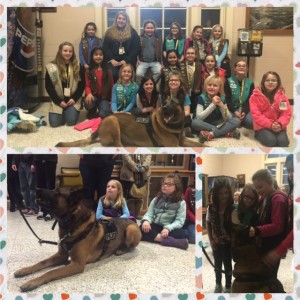 PRESS RELEASE for project:
"Chambersburg Police Department K9's Rownan and Basco will receive bullet and stab protective vests thanks to a charitable donation from non-profit organization Vested Interest in K9s, Inc.

K9 Rownan & Basco's vests are sponsored by a fund raiser hosted by Tina Richardson of Chambersburg. K9 Rownan's vest will be embroidered with the sentiment "Gifted by Girl Scout Troop 80067 and Lilly Mountain". K9 Basco's vest will be embroidered with the sentiment "Gifted with love from Girl Scout Troop 80067". Delivery is expected within eight to ten weeks.

Vested Interest in K9s, Inc. is a 501c (3) charity located in East Taunton, MA that provides bullet and stab protective vests and other assistance to dogs of law enforcement and related agencies throughout the United States. The non-profit was established in 2009 to assist law enforcement agencies with this potentially lifesaving body armor for their four-legged K9 officers. Since its inception, Vested Interest in K9s, Inc. provided over 1,700 protective vests, in 49 states, through private and corporate donations, at a cost of over 1.6 million dollars. All vests are custom made in the USA by Armor Express in Central Lake, MI.

The program is open to dogs actively employed in the U.S. with law enforcement or related agencies who are certified and at least 20 months of age. New K9 graduates, as well as K9s with expired vests, are eligible to participate.

The donation to provide one protective vest for a law enforcement K9 is $1,050. Each vest has a value between $1,795 and $2,234 and a five-year warranty, and an average weight of 4-5 lbs. There are an estimated 30,000 law enforcement K9s throughout the United States."