NOT OUT GAMES FOR GIRLS!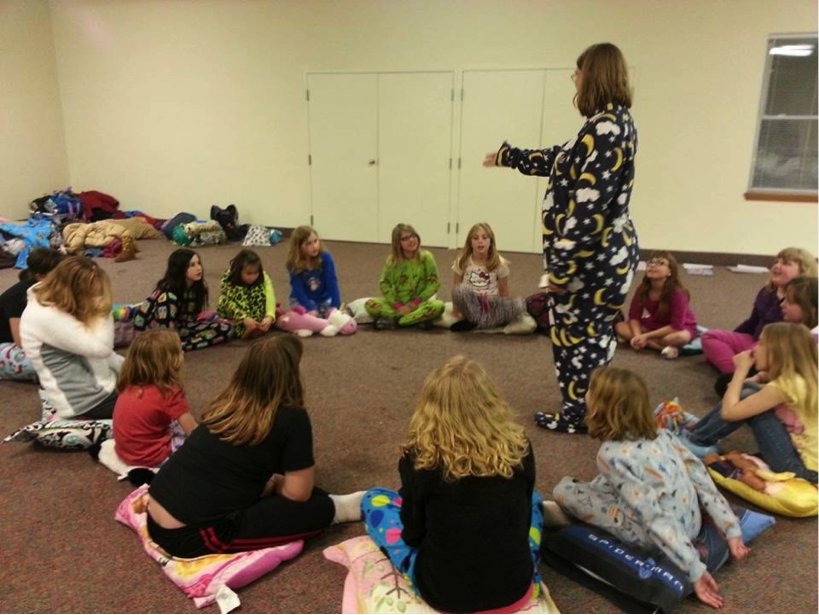 I love singing songs and playing games with scouts. But I have to tell you games that include 'YOUR OUT' drive me insane. Yes "Musical Chairs" you are on the top of my list. Now don't get me wrong, I am not one of those people that lets a kid always win a board game. I think learning to win and lose gracefully is a very important part of life. What I can't stand is when you play those games that include YOUR OUT, it starts with 16 girls engaged in an activity and as time goes on the girls are slowly told they can't play until you are down to 2 girls still engaged in the activity and 14 girls asked to stand around and watch quietly. Keeping all the girls engaged in the activity now that is right up this leader's alley. I have come up with a few ways to combat the boredom of these non-inclusive games and I would like to challenge other leaders to do the same.
At our last sleepover, someone suggested Musical Pillows and with a few adjustments it turned out to be a blast. We started with me singing at the top of my lungs when the girls began their walk around the musical pillows. After they got going, I turned away from the group, waited a few minutes before I stopped singing abruptly. The first girl out came and joined me. We made a huge deal out of singing at the top of our lungs to match the laughter of the girls circling behind us. I waved my arms like an umpire and the two of us stopped singing mid word. As we progressed I'm sure there were a few girls who "messed up" so she could join the choir. Before it was all over I had 14 girls giggling/singing their way through JingleBells just waiting for the signal. It was a hoot and all the girls were engaged the entire game.
Another huge offender are those circle games like "Down on the Banks of the Hanky Panky". Our troop decided that the girl who was out instead would be the scout who got to start the next round. Yes this made the game go on forever and they never got to do the lumber jack part at the end but you know what? My girls didn't care. They are happy to play this game for 20-30 minutes till the leaders finally say OK girls last round! As a leader, who wins a particular game really does not matter to me in the least. What is important to me is that my girls have a good time and walk away from the experience with their sisterhood intact. Putting a new twist on these old games make it possible to keep everyone interested.
Oh and in case you were wondering about the end of our epic musical pillows game, we did have an ultimate winner. And for her prize I had her stretch her arms as tall as she could, reach her arm over her shoulder and give herself a sturdy "pat on the back". When she stopped groaning she was then thrilled to receive the real prize which happened to be a "hardy handshake" I ceremoniously presented. When that didn't seem to thrill her the troop made a tunnel with our hands out and she ran through getting high fives from everyone. I mean after all she was without a doubt the most awesome musical sleeping pillow player in the house!
If you have been inspired to run your own game night, you'll want get your girls a fun patch to remember the fun.
Paula Riggins was a scout herself, way back when every brownie still wore beanies! She graduated from Sullivan University with a bachelor's degree in Business and is a Programmer Analyst for a Fortune 500 company. If you ask she will tell you working with kids is her passion. Paula is a Christian, wife and mom of two awesome scouts. Over the years she has taught Sunday school and directed Vacation Bible School at her church, as well as several Bring a Child to Work Day programs for her employer. She started as a Cub Scout leader when her son was in 1st grade and is very proud to say that he is currently a Life Scout working towards the highest rank of Eagle. When her daughter was born she couldn't wait to get involved with scouting again! Paula has been a GS leader for the last 4 years and is looking forward to many more to come.