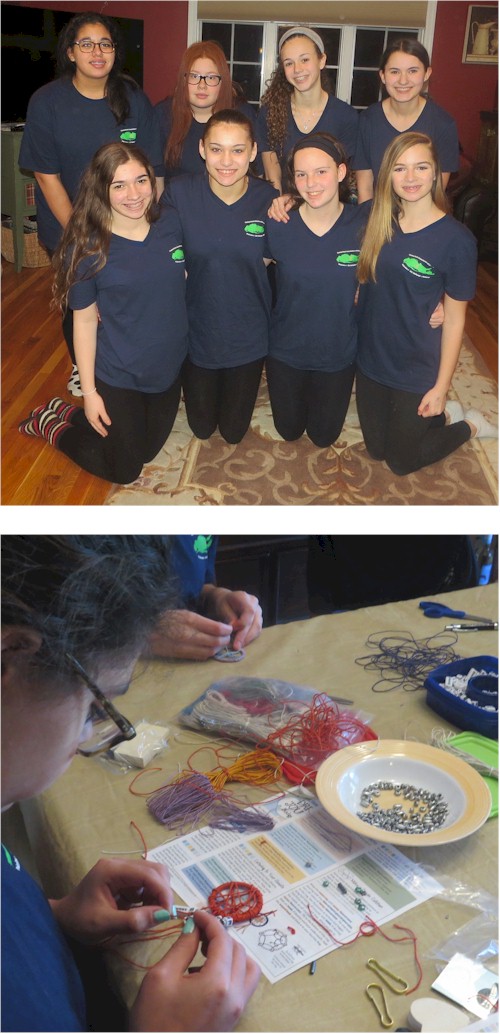 Over a long weekend, Senior Troop 3398 from Plainview, NY did The Ambassador Bliss Journey using the totally Girl Led Dream Journey Badge in a Bag® kit from MakingFriends®.com. It was the most beautifully run, comprehensive and productive weekend.
The crafts are totally appropriate for high school kids. We had divided out all the parts and materials at a planning meeting and each girl (or team) was totally responsible to planning, making lesson plans and bringing whatever she/they needed to get their section completed. In addition to the actual Journey program, we had a photographer Scout to document it, a videographer Scout to show the girls in action, a reporter Scout to send it to the local newspapers, two resource Scouts who ran errands for the supplies, a hostess Scout who was in charge of meals and a Scout who was in charge of activities to keep the girls active and upbeat during breaks. No drama, everyone did their part, mission accomplished. Outline of Take action project done.
The girls each took their part seriously, they came prepared. We did healthy food and exercise along the way. The Dream Journey Badge in a Bag® allows the girls to interpret the activities and crafts to suit their own tastes and gets the point of the journey across very easily. From the dream catchers (we added different colored hemp and beads), to the
messenger bag (the girls liked the natural look to the bag, with more muted colors), The books to record the info they will need to remember for their Gold Award interviews, to the Mirrors, each craft was age appropriate.
The girls didn't have to look much further than their immediate family to see how many dreams get sidelined by the realities of life and family. Their Take Action Project is making two dreamers dreams come true in an event they are putting together and hosting.



About Susan Garfinkel: I was never a scout growing up, my mom worked and I didn't do many after school activities. When my daughter was in kindergarten she got wait listed at GSNC. After speaking with another one of the Moms in her preschool, we started the troop as 1st Grade Brownies. The rest is history. We did 60+ badges as Brownies, countless Journey, community service and the girls alone have run 2 – 3 programs a year. They took over the meetings when they were 2nd year Juniors. We just supervise and guide them now. It is truly their troop. Since the change in the troop, I now volunteer on the Association level as the Chair of Association Volunteers for Plainview, Old Bethpage and Bethpage, New York. I love lifting spirits, seeing the girls excel and love when the leaders get excited about a program.