Junior Bronze Award Pajama Party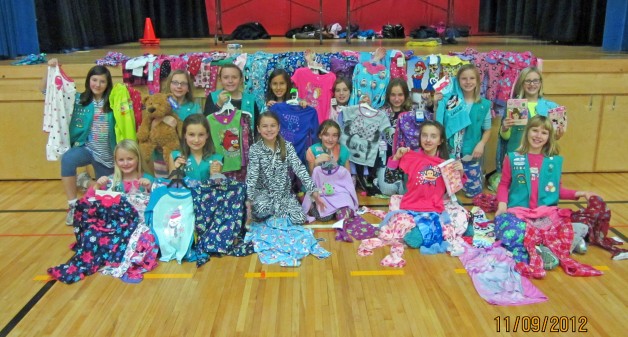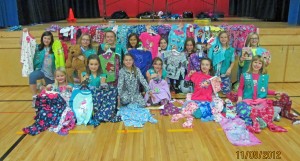 Our Girl Scout troop, #40847 recently earned our bronze award. For our Junior Bronze Award we held a pajama party and invited other local Girl Scout troops to attend. We held the pajama party at our local elementary school, so their was no cost to use the building. Our party was not a sleepover, but contained all the FUN elements of a sleepover. Our girls and our grown-ups all wore pajamas and we encouraged our attendees to also wear them. The "cost of admission" was a new pair of children/ teen pajamas. We collected the pajamas and then donated them to a local agency that helps place foster children in new homes. Many of these children come to the agency with nothing of their own. The agency, through donations, tries to give each child new items of clothing to take with them.
Party Activities
Our party activities were set up as stations. We made a schedule for each troop, so as not to have too many at one station at a time. These stations included a toss game, a Girl Scout troop photo opportunity, a decorate your own cupcake station, snack station(pizza), a make a friendship bracelet station, and catnip cat toy making station. The catnip toys are part of a service project we had previously participated in. That project is called Operation Happy Sock. This project encourages groups to make and donate catnip toys to animal shelters. The catnip toys we collected were also donated to different local animal shelters.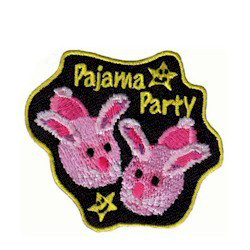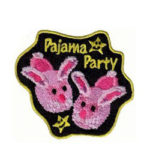 Each attendee also received a patch. One Idea for a patch is a Pajama Party fun patch.
Planning and Running Program
Our girls "worked each station" throughout the night. Our troop made all the decisions about the pajama party. As fifth graders we aimed the party at K thru 5th grade. We did have a few older girl scout troops attend. We worked hard at having items donated to our party also. A local Fast food restaurant donated the drinks and cups. Each of our girl scouts brought 2 dozen unfrosted cupcakes. We collected old socks for the catnip cat toys project. We collected polyfill stuffing for the catnip toys also. A family member of one of our scouts has a DJ service, so he donated his time to DJ the event. This made it possible to have a dance party towards the end of the night. A parent took all the pictures of our event, including the photo opportunities. We also held a raffle at the end of the night. All raffle items had been donated by local businesses.
Our troop made all the decisions about the party. They voted when the group was not unanimous about something. They stuck to a budget, even when that meant giving up something they really wanted, but was clearly out of budget. for example the group had wanted to design their own patch to give all the attendees, but opted for a less expensive stock patch to save money. The girls like the idea of having activities that they themselves had done previously. They felt they could help younger scouts with these activities. We ended the night with a HUGE Girl Scout friendship circle and squeeze. Our troop taught everyone a song that we sing at every meeting.
Outcome of Event
We received an outpouring of encouragement from the troops that attended our party. Leaders loved the idea of having their scouts pick out pj's to donate. They felt this made more of an impact on the scouts. They were glad we just didn't collect money to go out and buy pajamas. It was good for everyone to see how many pairs of pajamas we collected. The agency was so thankful for the donation. This was a wonderful service project to have been involved in. I know it was an experience that our girls will never forget.
Submitted by Elaine Franzel