Service Project: Healthy Teeth for Easter
Easter Baskets for Food Bank – with an emphasis on tooth care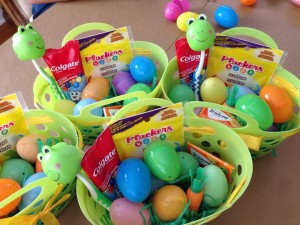 Troop 60005 from California helps fulfill Food Pantry's wish for Easter Baskets with less candy, more tooth care. The scouts of Moorpark, California have made Easter Baskets for families cared for by the local Food Pantry for the past couple of years. This year – the charity asked the girls to expand their GS community service project to think about how to reduce the amount of candy – and help the kids with tooth care issues.
The Girls came up with several ideas including:
tooth brushes with cute, animal "bobble heads"
filling plastic eggs with sugar free gum
adding flossing sticks made just for kids
putting stickers inside Easter eggs (instead of candy)
making coloring "eggs" from re-used crayons
handing out chalk eggs in the baskets
putting in a thoughtful note about the Easter Bunny's teeth
adding a kid friendly tube of tooth paste
Started in 2013 as a Silver Award project by a Moorpark Cadette troop, one of the older troops from the Service Unit usually heads up the project now – and collects hundreds of baskets each spring. The girls of 20+ troops bring a basket or two from each member to a "drop off party" at a local pizza parlor. The restaurant donates 10% back to the project too. Girls Scouts often go to a dollar-type store to fill the baskets. "It's a great way to budget and learn how to comparison shop (thus earning badges about dollars and sense.)" says leader Brenda Cusick. "It was quite a bit harder to think about how to make the basket fun AND more healthy this year" said Senior Brooke Cusick. "We still put in a couple of fun candy items – but were more thoughtful about that."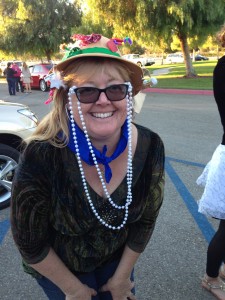 Brenda Cusick, her girls dressed her up like what a GS Leader "should look like"
Did you enjoy this article?
Subscribe for Updates
Sign up for our email list and never miss a Girl Scout Idea again!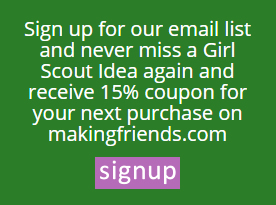 One response to "Service Project: Healthy Teeth for Easter"