By the time your girls are Junior Girl Scouts, cookie season can start to loose some of it's excitement. Maybe it's time to recharge with some fun projects and a game to rev up their cookie-selling engines. At MakingFriends, we started with the Junior Customer Insights Badge and set out to design a Badge in a Bag® kit that both you and your girls can have some fun with.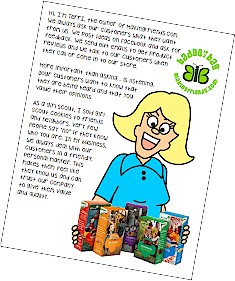 As usual, we hit the first stumbling block with the "expert" step of this badge. I know that it's not realistic to think that you can round up and expert every time you want to do some badge work. So we've made it easier with a free printable. As a business owner and a lifetime Girl Scout, I prepared a fun flyer you can print and hand out to your Girl Scouts to complete this requirement. Since part of the advice on the flyer is to sell to people you know, we suggest you sell to family, friends and neighbors. If your neighbors aren't home, your girls can leave behind a door hanger.
Our Complete Kit Makes it Easy!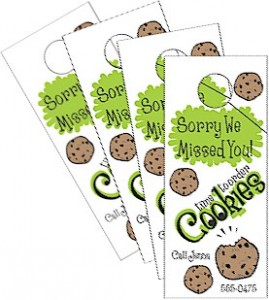 Our Customer Insights Badge in a Bag® includes blank card stock door hangers your girls can decorate before going out selling. Make sure to discuss appropriate contact information to write on the door hangers. Should they give their names or a parents name? Phone number? Email? This is something to discuss with the parents prior to the meeting or instruct the girls to leave it blank and discuss with a parent to complete at home.
Selling Cookies is All Fun and Games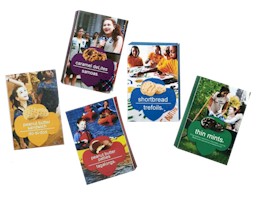 Now is a good time to play a game to get the girls up and moving while they learn more about Girl Scout cookies and selling them. Each girl makes six mini cookie boxes using Styrofoam, a plastic knife for cutting, a pattern and printed cookie box wraps included in our Badge in a Bag®. You want each girl to have a scissor and glue. Paint or markers is optional. These mini boxes become game pieces. To play the game, the girls have to "sell" their cookies. You can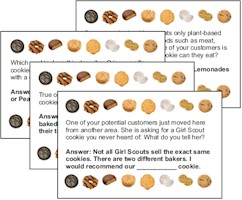 work in pairs, in teams or individually.
Girls take turns answering questions from the cards. Questions are multiple choice or True/False and cover everything from nutritional information to customer service… with some fun facts thrown in to keep things interesting. When a question is answered correctly, she rolls the dice and "sells" that many boxes, setting aside that number of mini boxes. The game ends when all the cookies are sold you run out of questions. We have several sets of cards. Depending upon how many kits you order, you may or may not get duplicate cards in your kits.
Girls Use Their New Cookie Knowledge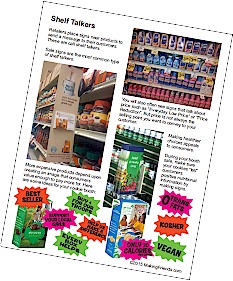 If you can't get to the supermarket with your troop, we've got a free printable flyer for that also. This will give the girls ideas for making signs for their cookie booth.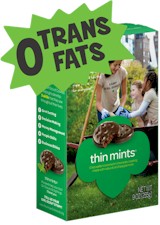 Our kit includes blank card stock star burst signs. Encourage the girls to each pick a different type of cookie and make a sign that will help sell that cookie at your booth. Give the girls the game cards to help them come up with ideas.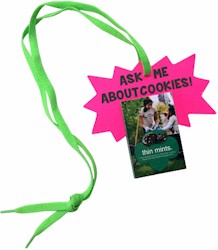 Who Buys Girl Scout Cookies?
Our Badge in a Bag® kit includes supplies to make a cookie necklace. Add one of your cookie box game piece to make it extra special. Wear your necklace before and during cookie season to learn more about who buys cookies.
It's Time to Sell!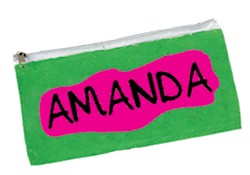 Decorate the included canvas pouch with acrylic paint or markers and use it to keep your cookie money. The girls have covered the rest of the Customer Insights badge requirements during the game so go ahead and award them the badge. Use the left over cookie box game pieces to make SWAPs or magnets.
Related articles