Are you are a Daisy leader looking for new exciting ideas to help your girls earn their Daisy Petals? Look no further! I want to share what I have done with my girls to earn the yellow petal: "Friendly and Helpful " I would love to hear your ideas as well, comment to this post or send me a email at [email protected]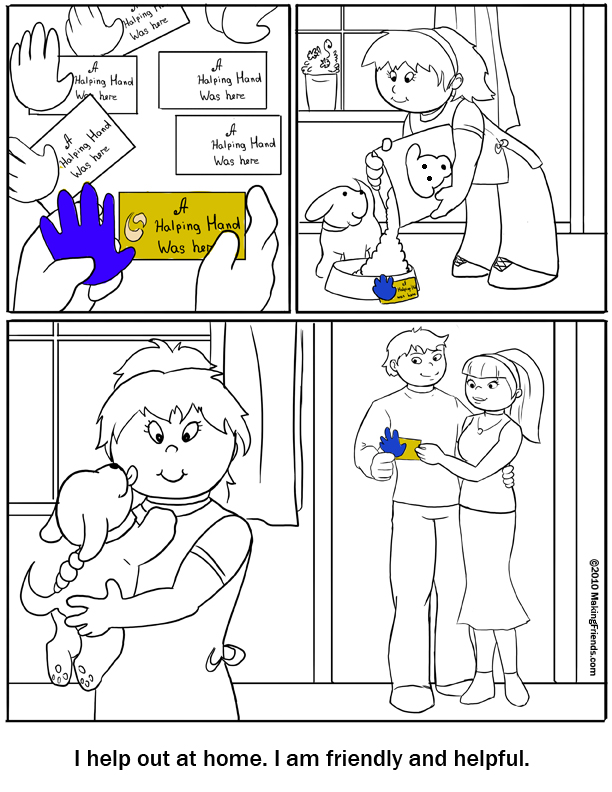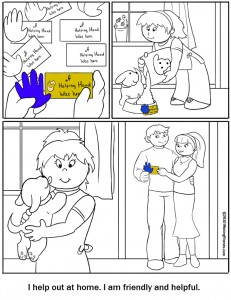 When the girls arrive to meeting have copies of the Friendly and Helpful Coloring page.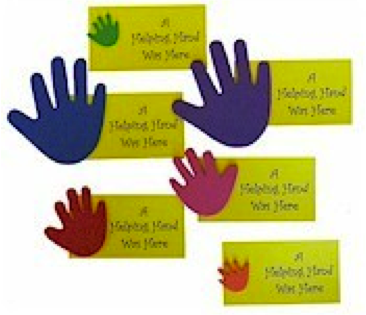 Friendly and helpful Petal Kit From MakingFriends.com
Each girl gets six printed cards and six foamie hands. Cards say "A Helping Hand Was Here" Glue a hand to each card. Instruct girls to help out or do chores and leave behind a card. Beside this kit, You will need tacky glue and markers. Project will take about 10 minutes to complete plus time to talk to girls about helping at home. Girls earn the yellow petal by being helpful at home.
Additional Games and Activities
Create a Kaper Chart: If you are not using a Kaper Chart at your meeting this may be a great time to start one. Show girls the Kaper chart and explain what it is and how they will be helpful each week by doing the chore or task that is assigned to them. To get started with your troops Kaper Chart, get some great ideas on our Pinterest page
Helping Hands Craft
Make a tree, a bouquet or a potted plant of helping hands that can be redeemed for help around the house and yard.
Role Playing
Have girls role-play being helpful. You can make up as many different scenarios that you like. My girls were having so much fun they wanted to keep acting.
Providing support to someone wheelchair-bound
Consoling a friend who has lost her pet.
Your friend dropped her books in the hallway help her
Your mom made everyone dinner what after dinner you want to be helpful
Your grandma has many groceries in her car how can you help?
Sing a Song
Serving Others Song
Sung to the tune of I'm a Little Teapot.
I could be a baker who bakes cakes
Here is my spoon and my bowl
When I serve you hear me say
"Taste my delicious cake today!"
I could be a waiter who serves you
Here is my tray and menu too
When I serve you hear me say
"What would you like to eat today?"
I could be a grocer who sorts food
Here is the fruit and vegetables too
When I serve you hear me say
"How can I help you here today?"
I could be a businessperson who serves you
Here is my briefcase and papers too
When I serve you hear me say
"I like to do business with you today!"
I would be a truck driver who serves you
Here is my truck and heavy load too
When I serve you hear me say
"What can I move for you today?"

Purchase the Petal Pack Complete from Makingfriends It is a complete set of projects to earn your Daisy Petals, 11 projects in all. They are each individually packaged and ready for your daisy meetings, no leader prep is needed. Order one package for each girl.