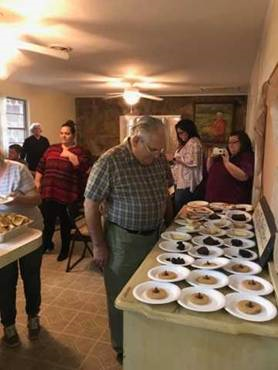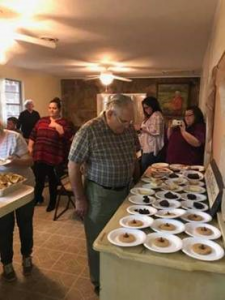 Junior Simple Meals Badge and Baking is Fun Patch
On October 4, 2017 the girls of Troop 6789 earned their Simple Meals badge and a Baking is Fun patch. The troop prepared a meal for all of their families as well as the church congregation. We are blessed to have a full kitchen at the church that sponsors us for meetings. Because of this our troop was able to prepare and serve the meal in the Banquet Hall.
During the first step of earning this badge the girls were taught how to be sanitary. The girls also learned how to implement safe kitchen practices and how to cut vegetables safely with a paring knife.
The second step included creating a meal plan, searching for the recipes, building a grocery and supply list and shopping. Each girl and their family volunteered and signed up to bring certain ingredients. We all came together for step three to cook our meal the night before our planned dinner.
When we realized our time constraints we decided to make step four an at home assignment. The girls prepared a dessert with mom or dad to bring and serve at the event.
Thanking Our Sponsor While Earning a Badge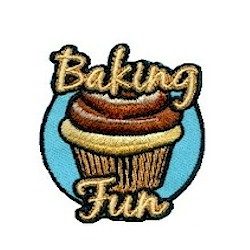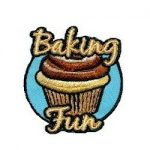 In our final step we all congregated at the church and enjoyed a wonderful meal of chicken spaghetti, garlic bread, tossed salad and a large variety of delicious girl made desserts.
The church pastor blessed our meal and the girls served via a buffet line. It was a great experience to bring all of the girls and their families together. We were able to show appreciation to our sponsor church while earning our Simple Meals Badge.
Pictured here are the girls cooking the sauce and washing dishes, shredding the cooked chicken in preparation to be added to the sauce and mixing up chicken spaghetti with mom's supervision.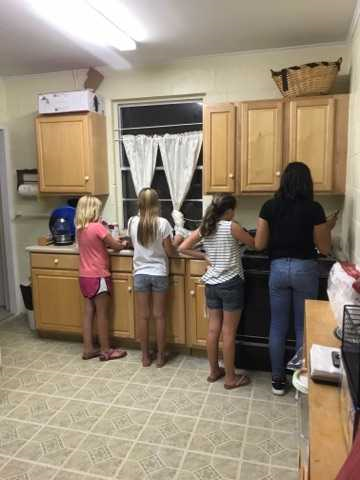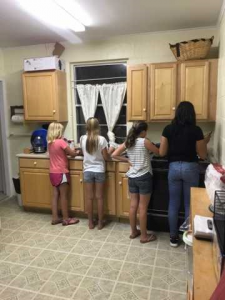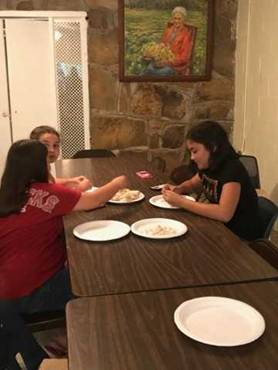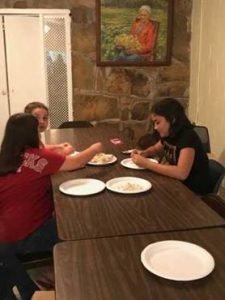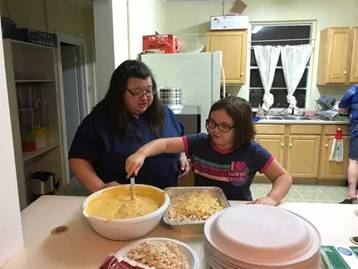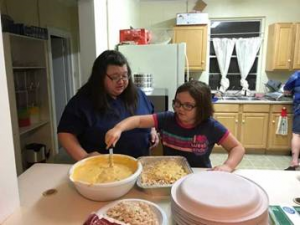 Benefits of Earning the Junior Simple Meals Badge
In today's time and way of life we are all in a hurry and our kids have been exposed to a large variety of fast passed on the go meals. Our youth has become accustomed to ordering dinner from a takeout menu and eating it in the car on the way to the next extracurricular activity. Teaching these girls the importance of preparing and serving their families is a true blessing that they can carry on for the rest of their lives.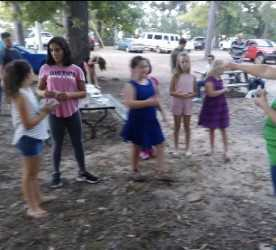 For years, I've said we need to be getting kids in the kitchen. Teaching kids about food can begin in the grocery store or the garden. But the real magic happens with you, in the kitchen. I am excited to hear the future stories of these girls. Perhaps preparing breakfast in bed for Mother's Day or helping prepare Thanksgiving dinner. Maybe making a meal for everyone because mom and dad have worked so hard that day.
Juliette Gordon Low founded Girl Scouts of America in 1912 with many goals in her mind. She wanted to develop girl's minds to all possibilities and to know their own potential. Obviously in 1912 girls were expected to prepare meals as soon as they were big enough to stand at the counter but those days have faded. However, through Girl Scouts and with much thanks to Juliette's vision we are teaching girls that they can do and can be anything they want to be rather it's a homemaker or a Robot Engineer. I bet you can all guess what badge we are starting to work on next. We hope you enjoyed our story and that your troop has as much fun with their Simple Meals badge as we did.
Meet the Leader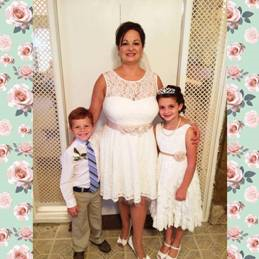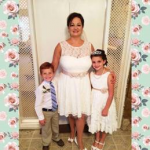 My name is Heather Wiley and I am the Leader of Girl Scout Troop 6789 based in Bigelow, AR. I am the Area Manager of an Arkansas based business where I have been employed for 18 years (whew … that makes me sound really old). I am the mother of 2 and step mother of 2 more. They all keep me running busy at all times, but I wouldn't trade it for the world. My 10 year daughter asked to join Girl Scouts about a year ago and I soon discovered that our small country town did not have any active troops so I set out to change that. I have a group of Juniors but as of today while writing this blog I have decided to go Multi-Level so that all of the girls in our small community can benefit from the amazing opportunity that Girl Scouts has blessed me and my daughter with.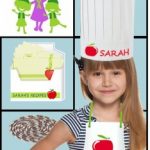 For additional ideas for earning this badge see our page Junior Simple Meals Badge. The Junior Simple Meals Badge In A Bag® includes five fun projects to "spice up" their Simple Meals badge-earning experience.