As a Cadette leader, you know that your girls just want to jump in and have fun during meetings. This could make doing badges like Book Artist a challenge. The projects call for a lot of careful measuring and cutting — something the girls may not have patience for. You also will not want to spend a big chunk of your budget on specialty supplies and tools.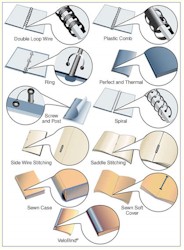 But don't worry, we've put together a Badge in a Bag® with the prefect blend of pre-cut pieces for easy success and open-ended projects so the girls can make each book in her own style… and the price is right. No tools or specialty supplies will be needed. If it's not included in our Badge in a Bag®, you will have it in your craft box!
Exploring the Art of Book Binding
Step 1 of the Cadette Book Artist Badge calls for exploring different types of book binding. Unless you take a trip to a museum or visit with a book artist, your exploration will be limited to contemporary styles. Here is a good way to make the most of this experience. Take a look at your Girl Scout book library:
The Cadette Badge book is an example of ring binding.
The badge supplements inside are saddle stitching.
The girls' Journey books are perfect bound.
The Book Artist Badge in a Bag® contains a matching game worksheet. Ask the girls to cut off the yellow book terms and cut them apart. Tape or glue the list of definitions to a piece of blank paper. Instruct the girls to rearrange the book terms next to the right definition. You can make it a game to see how many they can get right individually or teams or as a group.
Here are the answers:
The outer portion of a book which covers the actual binding: Spine
The double leaves bound into a book at the front and rear after printing: Endpaper
The decorative application of gold or gold coloring to a portion of a book: Gilt Edge
Method of binding where a single printed sheet of paper is folded once: Folio
Thick cardboard under the paper or cloth covering on the outside of the book: Board
The uneven edge of paper now used as a decorative enhancement: Deckle Edge
The portion of a book cover or jacket that folds into the book from front to back: Flap
The part of a book closest to the spine that allows the book to be opened and closed: Hinge
A protective wrapper which wraps around the binding of a book: Jacket
A form of bookbinding where the pages are glued, rather than sewn, in place: Perfect Binding
A folded sheet, several of which go to make up the inside of a book: Signature
An early form of bookbinding where the pages are stitched by hand or machine: Coptic Binding
A form of binding where folded sheets are collated and stapled on the fold line: Saddle Stitch
Binding where boards are wrapped with material to make a durable hard cover: Case Cover
Get Familiar with the Insides of a Book
The Book Artist Badge in a Bag® contains a composition notebook. Instruct the girls to examine the way the book is made and use a scissor to take the binding apart. (You will be using the pieces for future projects.) This is an example of a saddle stitched book. Many saddle stitch books are stapled rather than sewn. The tape along the outside of the spine hides the stitching and adds strength to the binding.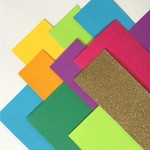 It's Time to Start Creating!
Each Book Artist Badge in a Bag® contains a Creativity Paper Pack. This pack has assorted papers for your girls to use any way they want to embellish the three book projects for this badge. We have included a variety of colors for maximum creativity. If you have more than one girl, consider gathering these papers for all the kits and combining them so your girls have plenty of choice for their embellishment.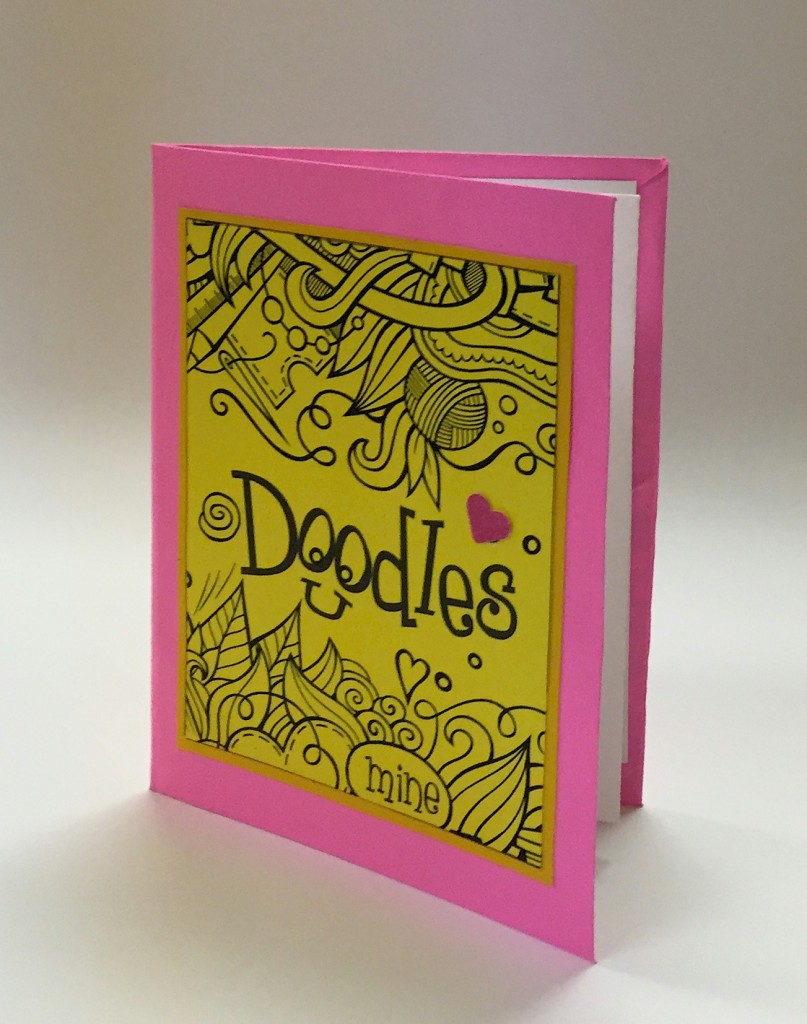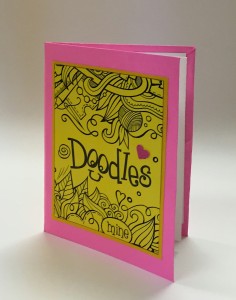 The other papers in the kits are cut for a specific project and should be kept separate. You can choose to also combine these so the girls can select their own colors. Dig into you craft bag for other supplies:
Paper and Fabric Scraps
Gems, Glitter, Buttons, Sequins
Hole Punches and Decorative Edge Scissors
Making a Fold and Glue Book
Despite multiple steps, this booklet is easy to make. Just follow the step-by-step the instructions. We have included a pre-cut cover paper to use or try something else like fabric, a recycled map, gift wrap. Just about anything flat and foldable can be used. The girls can decorate the book any way they want and bring it home to fill the insides with drawings, poems, ideas or photos.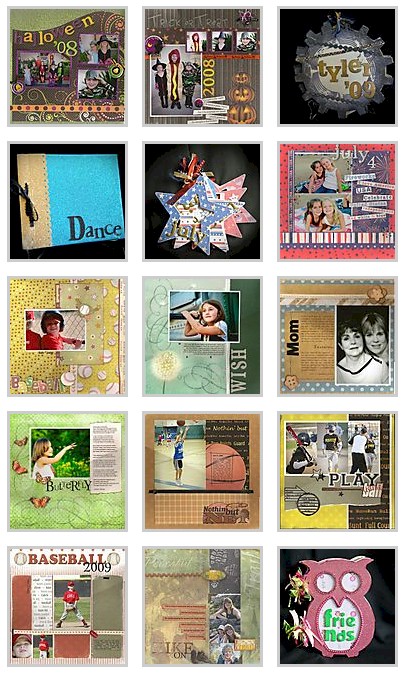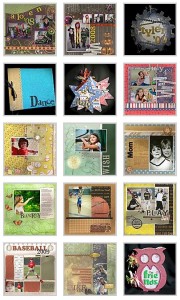 Making a Mini Scrapbook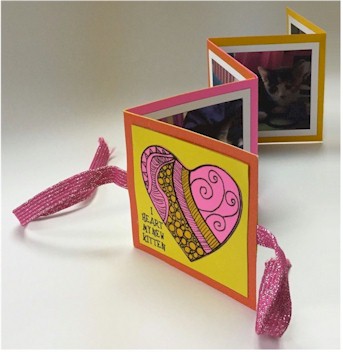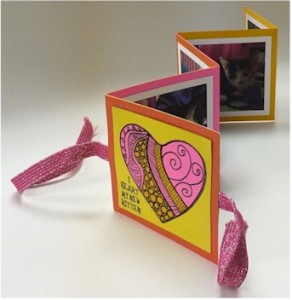 This is a great project for beginner scrapbooking. Girls will get a chance to create 10 mini scrapbook pages. Artist Tracy Weinzapfel has dozens of very creative mini layouts to show your girls for inspiration.
Explain to the girls the their scrapbook doesn't have to be completed in one sitting. They can experiment with different layouts and materials without gluing into place.
Craft Tip: The ends of the ties will fray a little bit. Leave them alone for a shabby chic look or apply a little glue after trimming.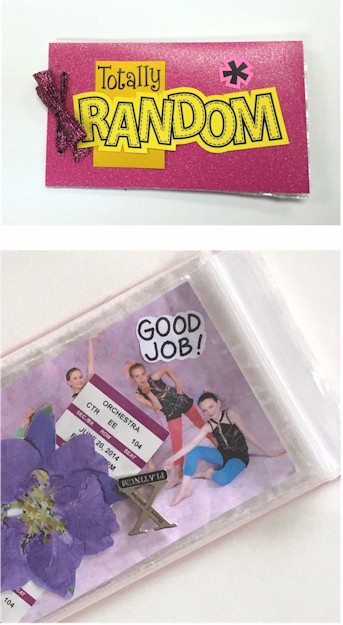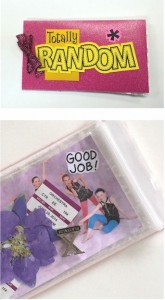 Make It with Unexpected Material
What about glitter shoelaces and zipper bags? This fun book is surprisingly easy to make and surprisingly fun to fill. Zipper 4″ x 6″ bags make perfect pockets to hold tidbits and treasures throughout the year. Your girls will have a blast adding and changing their pages. Suggest the girls cut up the pages from the inside of their composition notebook to make a background to paste on images or write notes. Add ticket stubs, pressed flowers, poems, postcards, gift tags… the list is endless.
You're Done!
Your girls have completed the Cadette Book Artist badge. What did you think? Please take a minute to write a review or even better, write a blog for a chance to earn a $40 store credit! Learn how here.