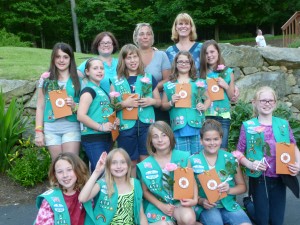 Junior Girl Scout Troop 418 decided for their Bronze Award they wanted to help the children of the Wanaque Rehabilitation Center. The children that are cared for in this facility are often wards of the state and have severe developmental and physical disabilities and cannot live at home as they need 24 hour care. Most of these children have suffered brain injuries, are immobile and as a result cannot communicate.
The girls worked on their Girl Scout Bronze Award in three parts: held a sock drive, made blankets, and designed large ceiling tiles for the children's bedrooms. The girls earned money for the cost of the supplies through the cookie sale program and nuts/candy and magazine fundraiser that Girl Scouts run every year. We also used some of the dues money to cover the cost of the items.
Sock Drive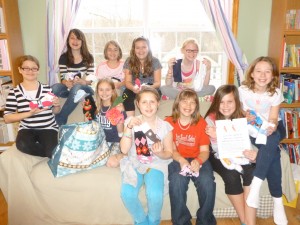 They held a sock drive at two schools to collect new socks to help keep the children's feet warm. The girls placed bins at each school; we have an elementary and middle school in the same school complex. The girls also made flyers to send home and students brought in the donations. The troop collected over 100 pairs, baby to adult socks.
Blankets for the Kids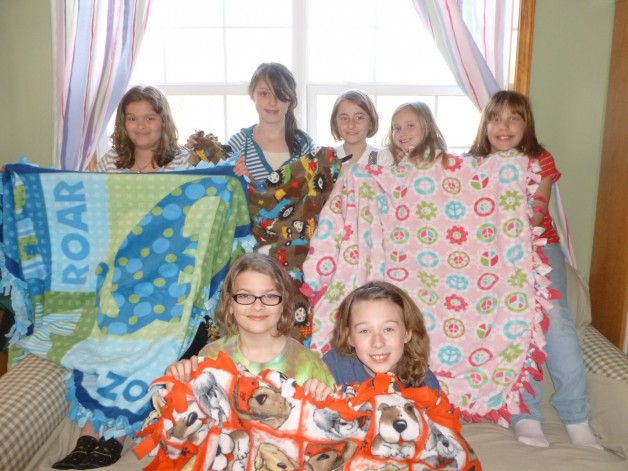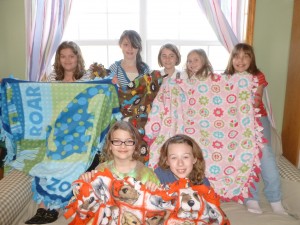 Girls also made blankets to help cover the children's beds and add color and cheer to their rooms. The most expensive part of their project was the blankets. We made one per girl, so at that time we had a Girl Scout troop of 10. I bought them at a local fabric store when they were on sale, and used a coupon and don't forget to use your tax-exempt number. The blankets were $12 a piece, but they were double sided fleece. The girls spread the two pieces of fabric out on a large table and cut fringes all around and then tied the blankets together. Most fabric stores have no-sew fleece that comes in bundles and all you have to do is cut 4 corners, the fringe and tie!
Colorful Tiles to Bring a Smile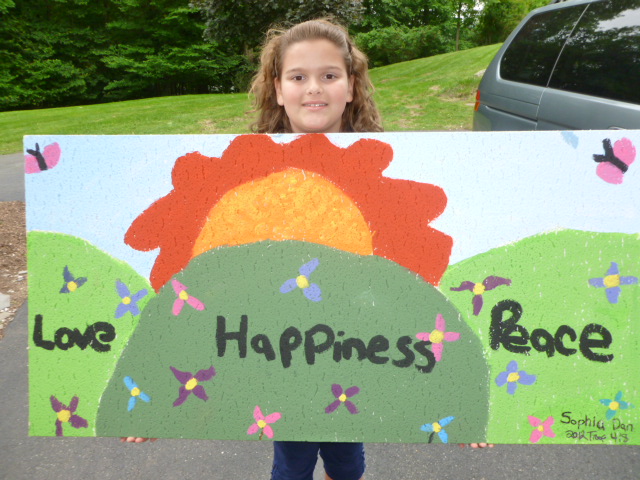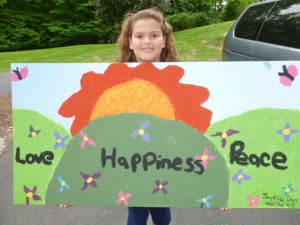 Our biggest part of this project was painting large ceiling tiles to be placed over the children's bed, so they would have something colorful and stimulating to look at. The tiles were about $50 from the local Home Depot. Each girl made one. All we needed was paint, brushes, and their imagination. Each piece of artwork was as different and unique as each girl in the troop. When we took a field trip to deliver these items to the rehab hospital, they were greeted with smiles and happiness from the residents.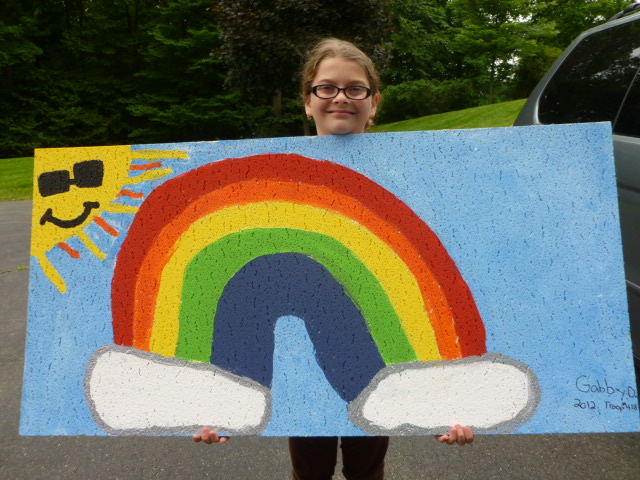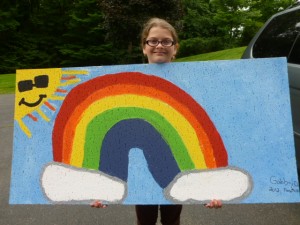 As leaders we were concerned as to how the girls would react to seeing the children in wheelchairs, hooked to breathing machines, and many immobile in beds. What a surprise they gave us because they went right inside without hesitation and full of positive energy. This goes to show how Girl Scouting has helped to teach girls to be confident, courageous and kind to all people no matter what their abilities. We were very proud of the girls in Girl Scout Troop 418 and hope to inspire other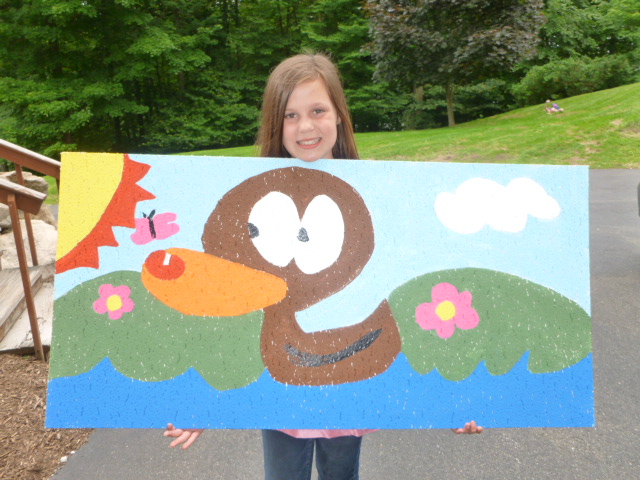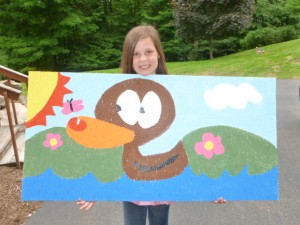 troops to reach out and help those children that are less fortunate than them. Each girl came away with good feelings of inspiration to do a good turn daily and many reflected how lucky they truly were to be healthy and have loving families.
I made a troop scrapbook with photographs documenting their journey, and had each girl write what it meant to them to be a part of this project. The scrapbook has become a troop-treasured keepsake. We celebrated with an award ceremony and family picnic to end the year.
My name is Vesna Dan I work as a substitute teacher in the schools, am a GS Leader, mom of three girls. In addition to being a troop leader, I am also the Service Unit Troop Registrar, and Troop Organizer, and a New Leader Orientation training facilitator. I enjoy reading, working with my Girl Scout troop, attending Broadway shows in NYC, and vacationing with my family. We live in Sparta, NJ, and belong to GSNNJ Girl Scouts of Northern NJ