submitted by Tristan Kehle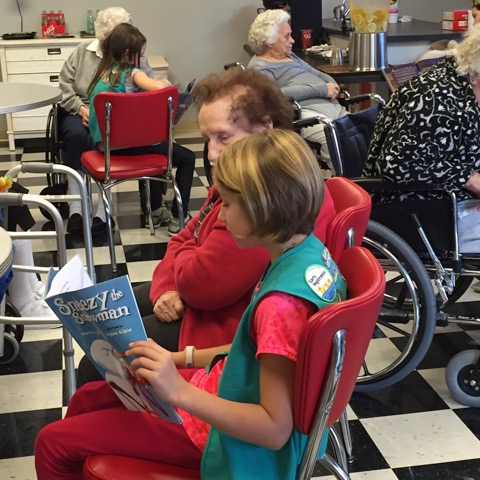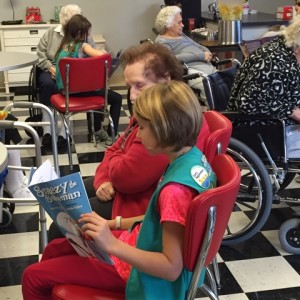 This year to spread Christmas cheer and awareness of the loneliness that seniors often experience during the holiday season, our troop of fourteen girls decided to honor the elderly in a special way. The girls spent two of our troop meetings in the month of November working on special crafts to give as presents to the residents of a local rehabilitation/nursing home. The girls decided to create holiday cards and bead book-marks for the residents to keep in their rooms.
The first meeting in November we focused on the book-marks. In an effort to keep our costs affordable, the girls chose 4 different colors of thin ribbon and two large containers of large glass beads. Those items were purchased at Michael's craft store, using the fantastic 40% off coupon to help us conserve costs! We spent the afternoon cutting ribbon, selecting beads and making the book-marks in various lengths for different book sizes. In retrospect, we would recommend using felt rounds or shapes as opposed to beads and hot glue to keep them on the ribbon. We found that the beads were hard to keep from getting into a knotted mess!
Our next meeting focused on making Christmas cards for our residents. We pulled together assorted card stock, sequins, ribbon, paper punches and glue and set it all out for the girls to create. The girls needed a little guidance – wording, design ideas, etc – but it was incredible how different and unique each card turned out!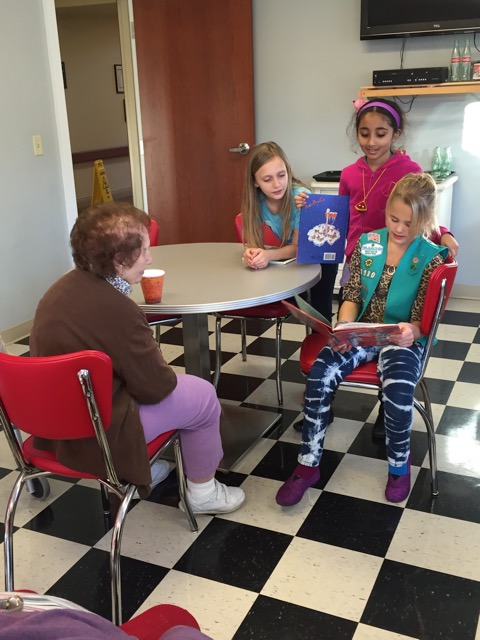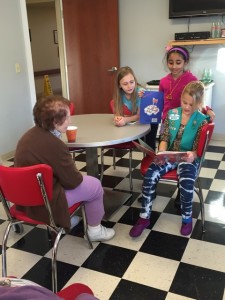 One of our parents works at a local rehabilitation/nursing home and coordinated the dates for our girls to read and hang out with the residents. We went for our two December meetings (for a little over an hour and fifteen minutes) to do some holiday reading. Prior to the visit, my co-leader went by the local library and rented out over 15 holiday books. We added a few from our own house and put the books in a large tote for easy carrying.
I'll be honest, I wasn't sure how well it would go – holidays can be a hard time for residents at the center, but both of the days that we went it was absolutely amazing. Our girls loved the residents that they read to and the residents LOVED them. Of course there was a learning curve, we had a few girls go out of the main room into a smaller sun room to read. It was a little harder for some of the seniors to hear, so we tried to make it work best for the residents. The girls paired up to take turns reading stories and read for the full hour. We ended the first meeting with an impromptu sing along that went so well we planned more songs for our second visit. The second visit we came prepared with song packets (we printed up 6 to 7 songs offline and stapled them to create a simple packet so the girls would have all the lyrics) and the residents and even some staff came by to join along in the singing!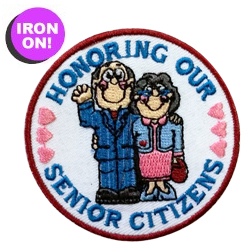 The residents truly loved the cards, they thought the book-marks were beautiful and of course the girls were thrilled that their creations were so well received. In fact, we handed out all of our Christmas cards at the first meeting and the girls made more at home to bring with for our second meeting.
Parents were happy to see their scout creating a memory with local seniors and the girls were happy that they could be a bright light to someone during the holiday season. It went so well we are going back again in just a month or two to read again – this time the girls are bringing their favorite stories with them!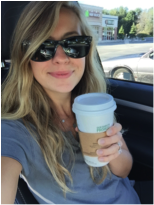 My name is Tristan Kehle. I've been a scout leader for over 4 years now and LOVE it. I focus on keeping our girls moving and always scouting out an adventure to keep the girls committed to scouts. I love coffee, cleaning, organizing, decorating cookies and rescuing dachshunds!