submitted by Staci Jansma
During our first year of daisies we began working through 2 petals lessons and one chapter of the Welcome To The Flower Garden Journey during our 1 1/2 hour meetings we had scheduled. This seemed like a very good approach to working through the Girl Scout curriculum. We completed all petals our first year and ended with completing our Take Action project for the Flower Garden Journey.
Here is what we did for our Take Action project as first year daisies: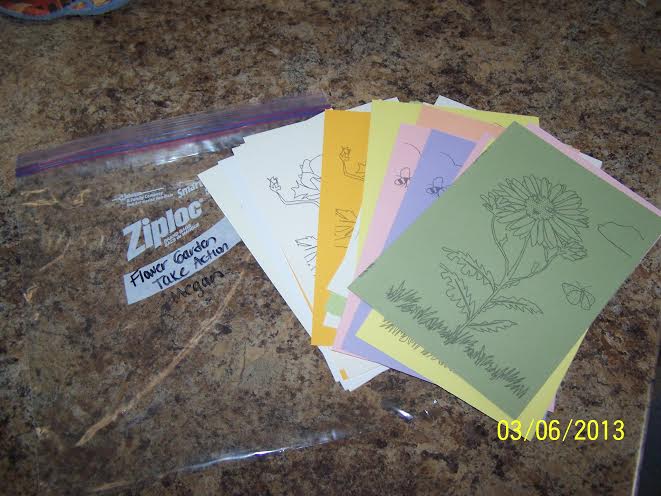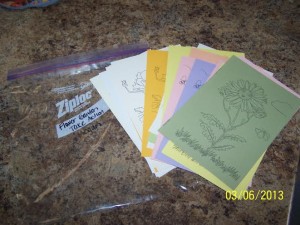 Printed off the Flowers onto cardstock paper. I was able to fit 2 flowers per each 8.5 x 11 sheet.
Cut the cardstock down to size for each girl. And sorted through the colors to make sure they were colorful for the girls to color.

Here is what they looked like when they were done

After the girls were done coloring, each parent helped to cut around the flowers in an oval like shape.

We also placed the Girl Scout Promise as our center piece to our placemats.
We then had each piece precut from a template for the outer covering to make up our placemat. We used a colored shelf liner for the back and clear shelf liner for the front so you could see our beautiful flower garden.

Delivering the placemats to the nursing home.

We called and arranged a meeting time with the Director of Programs at a local nursing home and presented the residents with their placemat. The residents were so pleased to see the girls they asked them questions about themselves and the girls even said the Girl Scout Promise.
What do you do when new girls join troop?
During our second year of daisies, we had brand new daisies join us. At that point, as the leader, I decided to work through the petal lessons plus our current journey we were working on, Between Earth & Sky.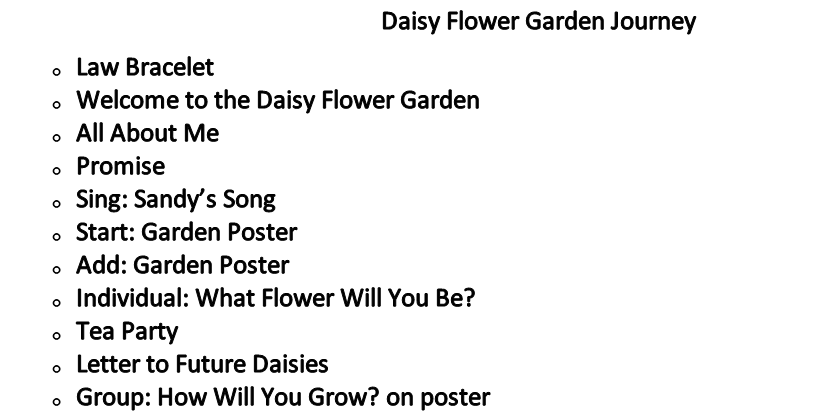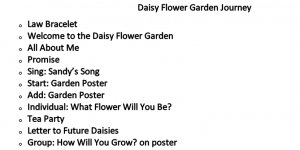 But I wanted the new girls to get a chance to earn the flower garden journey as well. So I created Journey In-A-Day session that I held at my house with an open invitation that anyone in the troop could come. Even if you already earned the journey award set, come anyway because you could give great input and help bond with the newest troop members. And if the girls were not able to attend, I provided them with a Take-Home kit of the Journey to do on their own too.
Law Bracelet
The Opening Activity was MakingFriends Law Bracelet. This bracelet was just so perfect for this age group. And what's even more special is our Law aligns with each flower, which is the main focus of this journey. Learning more about the Flower Friends on their journey.
Welcome to the Daisy Flower Garden
After the bracelets were made, we then started into the journey. I gave the girls a brief introduction, started reading through the journey.
All About Me Poster
We completed our "All About Me" poster as a group. I asked the girl to write or draw something about them.
Girl scout Promise
We then did the Girl Scout Promise. Followed by singing a few Girl Scout Songs.
Garden Poster
Next we started on our Garden Poster. We listened to our Flower Friends and then started to create our own Garden. We then listened more to the story adding to our Garden along the way too. I also had some stickers that the girls added to their garden poster from flowers to sun.
Asked each girl What Flower Will You Be? and followed up with a group discussion reflecting on what the girls said.
We had a snack time in our meeting for a simple Tea Party that the girls just loved. The spent the time talking amongst each other. After snack time was finished and we cleaned up after ourselves, we then headed back to finish up our Journey.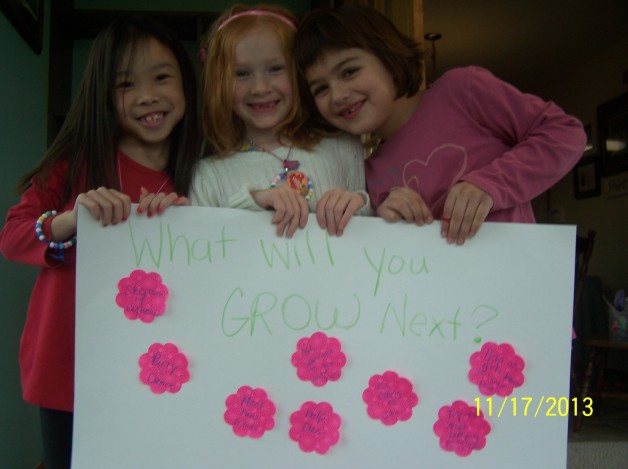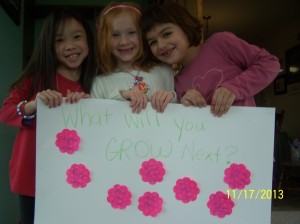 For this take action project we focused on future daisies. We used the last page of the journey to write a letter to future daisies. We used the "poster called Letter to Future Daisies" to write down our ideas that we added into the letter. The newer daisies needed a little help along the way with their letter, only because they have only been daisies for about 2 months now. But after a few examples they were able to fill in exactly what they wanted their letter to say. I wrote the words for them, so the future daisy could read it.
Lastly we finished up as a grow talking more about future and How Will You Grow? This was a nice way to finish it up because I was able to take the time to let their girls know about the other journeys, more about girl scouts and what is available to them. This journey was more focused on each girl future journey, along with helping future daisies.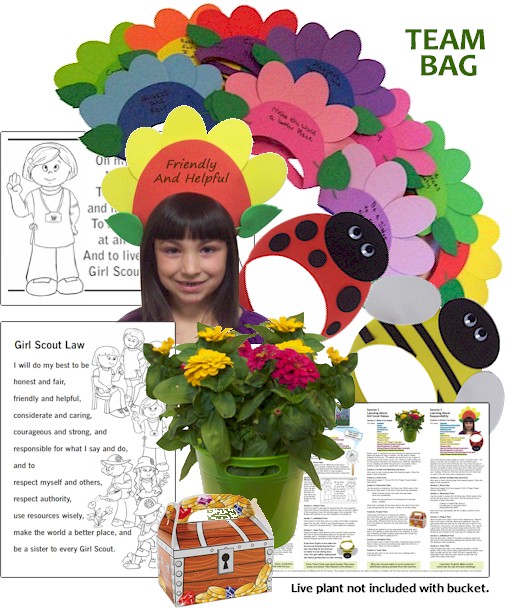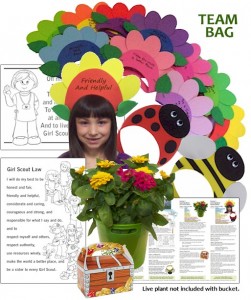 Additional resource for completing the Welcome to the flower garden journey is the makingfriends Daisy Garden Journey Badge In A Bag®.
Order 1 Team Bag for your troop of up to 12 girls and 1 Girl's Bag for each girl. They are packed with hands-on activities to make your Girl Scout Journey a fun, positive experience for your girls AND a stress-free, memorable experience for you.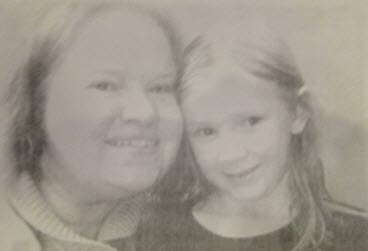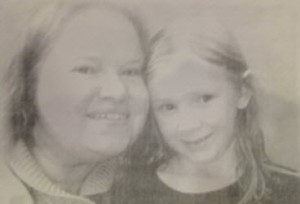 My name is Staci Jansma. I am currently a Daisy Troop Leader and School Organizer. This is my second year as a leader for 2013-2014, and I have learned a lot within the past 12 months and I'd like to share that with you. My daughter is the main reason for my passion into Girl Scouts, plus I was a Daisy-Brownie when I was a little girl and my mom was my leader too. If there is a topic you are dying to know more about, drop me a comment and let me know. If I have some input on it, I will definitely share what I know. Here's to a great Girl Scout year for everyone!