A troop leader shares her Daisy troop meeting plans. This blog is shared with the permission of the leader so that other troops might find inspiration when planning meetings.
Lots to Catch Up On…
Admittedly, I haven't blogged in a few months. Fall is the busiest time for me. Kids are back in school and then the holidays are here before I know it.
Fall is also very busy for our troop. As mentioned in an earlier blog, our Council holds cookie sales starting in September and ending in early December. Our troop also completed our community service projects this fall.
In October we started on our 3 Cheers for Animals Journey. After spending so much time last year at the Dollar stores and craft stores buying supplies for meetings, I decided to purchase a Journey kit from the Making Friends website. You can find kits here: MakingFriends.com
If your troop has the funds up front to purchase one of these kits, I'd highly recommend it. (I plan to use the kits for my Brownie Journeys too!) It has been a huge time saver for me when planning our meetings. The Journey in a Bag kit comes with a meeting guide and all the supplies you need to run the meetings, except for simple things like glue or tape or crayons/markers.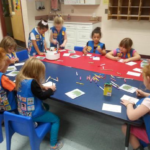 The kit also includes a mini scrapbook for each scout and my girls have enjoyed adding their coloring sheets to it. I have also added in their scrapbooks several photos of the activities we have completed which makes for a great keepsake. Tip: don't let the scouts take home the scrapbooks until the very last Journey meeting. Otherwise a few of them may get left at home or misplaced. When I award the scouts their Journey badge, they will get to take their scrapbooks home to keep.
We have been working on this particular Journey for several meetings and we will be wrapping it up at our next meeting in January.
Some extra things we did with the Journey.
Took a troop hike. We learned about hiking safety and forest animal safety. Our TAP for the Journey was to make pine cone bird feeders to hang up at home.
My co-leader invited a friend of hers to come talk to our troop. Her friend has a service dog and he taught our troop about service (and therapy) dogs. Our girls really enjoyed his visit.
In November we worked on our community service projects.
The troop voted to use the money they received at their cookie booth sales to purchase cookies for our local police department. We collected enough donations to deliver 2 cases of cookies to the police!
Our big project of the year was to purchase and assemble 100 craft kits for children at Johns Hopkins Children's hospital. One of our scouts suffered an injury in the spring and spent several weeks at Johns Hopkins. She has recovered and is now back with us and our girls wanted to give back to the hospital that helped to heal their friend. I submitted their story to our local newspaper and the girls were excited to be interviewed by a reporter. I can't tell you how proud I am of my troop and how thoughtful and considerate they have become.
You can read the article here: Capital Gazette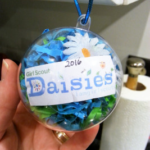 In December we held our holiday party for the troop. They had a blast playing games and doing a "Secret Scout" present exchange. Each girl brought a home made gift which was made from materials they already had around their house – nothing store bought! They also enjoyed making an ornament to take home. My co-leader found a fantastic ornament craft on Pinterest.
We'll work on our Bridging to Brownies badge requirements in February. My family is moving this spring to another county. We'll still be in the same Council but obviously in a different Service Unit. I plan to start a new troop in our new hometown – and this time it will be a split troop: Brownies for my older daughter and a new Daisy troop for my younger daughter!
Our current troop is very fortunate to have our 2 co-leaders volunteer to take over leadership of the troop after I move. Our troop plans to bridge to Brownies and then my co-leaders can finish out the year by planning fun meetings and outings and the bridging ceremony.
I also plan to continue this blog with the adventures of our new Brownie troop and my younger daughter's new Daisy troop. More to come soon! Scout promise. ????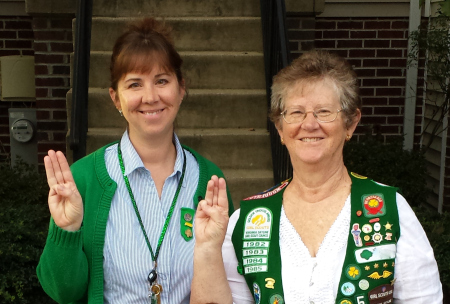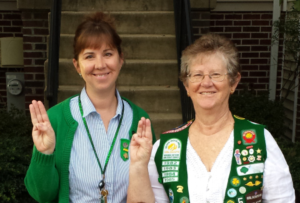 I grew up in a very active scouting family; with my brothers and sister we were all involved in Boy Scouts and Girl Scouts! Now happily married with 3 wonderful children; 2 girls and a boy, I'm looking forward to scouting with my family all over again.
My Mom was my leader and led a dynamic troop and is, in fact, my inspiration for what I'm doing now with my daughters. As a girl I loved being a Brownie, Junior and Cadette and the highlight of my years as a scout was a troop trip we spend years planning and fundraising for: Juliette Gordon Low's birthplace in Savannah, GA. So it's been a dream of mine to be my daughter's leader (as my Mom was mine). I decided to share my experiences on this blog to assist and encourage other new leaders. All leaders should abide by the scout regulations and complete all required troop training. This blog is not to replace scout regulations or training – it's only meant to give helpful tips for meeting plans.