Bridging to the next level of Girl Scouts is a huge event.
Two years ago when my 9 little First Grade Daisy girls were getting ready to bridge to the next Girl Scout level, we went all out. We had the girls' bridge over a little wooden bridge over a small stream. We included songs, reciting the Girl Scout Law and the Promise. Every girl had a special part in the ceremony. After our ceremony, we had a BBQ at the park with the girls' families & friends who came to support them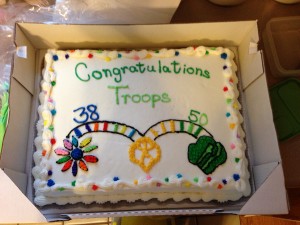 This year as I now have 2 troops; Daisy Girl Scouts consisting of Kindergarten & 1st graders & the 3rd Grade Brownie Girl Scouts, I have to bridge 15 of my 19 girls. So I am planning our bridging this year at our school. We are having the Kindergarten girls do the Flag ceremony & help with handing out the pins. My 3rd grade Brownies will walk the 1st graders over our "Bridge" & some of the Brownies will "Welcome" them into the next level. We also have invited some 4th Grade Junior Girl Scouts to help with the Brownies to welcome them into the Junior level. This is such a big event. Again all family & friends are welcome to this & we are having a party after.
Girl Scout Ceremony Planning
The girls make the plans & then we as the Girl Scout Leaders sometimes need to help tweak the ceremonies so they can come out just right. Sometimes we must make the girls see that certain things will or won't work. A lot of my girls want to shoot for the stars & plan something over the top. We have to remind them of space constraints and money.
My ceremony always includes a program to be handed out at the ceremony. On the program we put a picture of the girls, with the date & event name. Inside I break down every part of what we are doing. It is a nice keepsake for the families because they get to see their daughter's name in it & what they are doing. On the back I include a special "Thank You". I thank all the parents because without them allowing their girls to join, we would not have Girl Scouts. Then I thank the moms who stay & help at the meetings. These are the moms that are not leaders, but that have registered to be a volunteer. Next come my 2 AWESOME co-leaders. If you don't have a co-leader, get one. This can help you be able to take on more girls, but also gives you someone to ask to take over if you can't be there.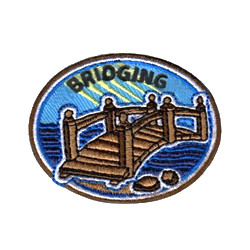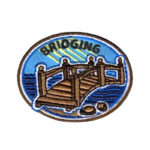 Small gifts are so much fun at your Bridging Ceremony as well. The girls can get a patch, pens, and pencils you decide. Take a look at the fun patches available for bridging and other Girl Scout celebrations.
The key to planning and having a great Bridging Ceremony is the GIRLS!! Of course, this is the time for them to be the star. They have spent the last 2 years working hard to earn those Rainbows. Let them be boss for the day. Just know that even if you have a very small Kindergarten girl just starting out or your Ambassador level girl who is leaving forever, they all have a right to help with what they want.
Submitted by Colleen Jones