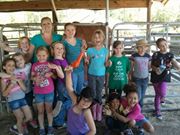 My name is Jennifer O'Neil, this is my 3rd year as a Girl Scout leader. I joined girl scouts because I use to be a girl scout when I was younger and my daughter wanted to be in scouts so I joined again. My troop story is about my Daisy troop – we have a troop of 15 girls from kindergarten and 1st grade. Me and my co leader Missy thought it would be a great trip for the girls to learn about taking care of animals by visiting a horse ranch. So we went to Haven Horse ranch in St Augustine, FL and the girls learned how to take care of their own horse by brushing them, putting on saddles, feeding them, learning how to clean a stall and they all got to ride the horses when they were done. As for the badge that the girls earned, we were working on 5 Flowers, 4 Stories, 3 Cheers for Animals! They earned all 3 journey badges, for this event.
Red Robin Award– Daisies use their new knowledge and creativity to teach others how to care for animals
Tula Award– Daisies gain courage and confidence in teaching others about animal care
The girls were very interested in the horse event, even though we live in somewhat of a country setting, none of the girls have ever been near a horse. By attending this event, the girls were able to get out of their normal elements and see what it is like to help out an animal that not a lot of people at attached to. Once the girls learned about the horses and their daily routine, they came back to the community and discussed it with their fellow classmates and other troops. It was great to see the girls get really excited when they talked about the saddles and taking a ride on the horses.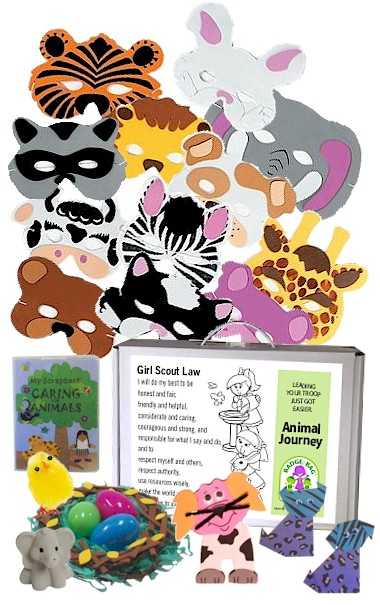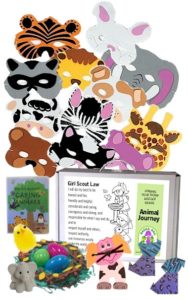 Another Great Way to earn the Journey is with Makingfriends Animal Journey Badge in a Bag Kit
Order 1 Team Bag for your troop of up to 12 girls and 1 Girl's Bag for each girl. Our Adventure Badge in a Bag® is packed with hands-on activities to make your Girl Scout Journey a fun, positive experience for your girls AND a stress-free, memorable experience for you. Your planning time and prep time will only be about 5-10 minutes per meeting! You need basic supplies like scissors and glue but everything else is included!