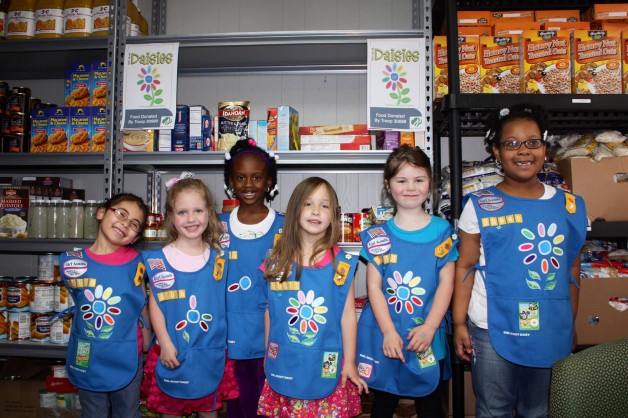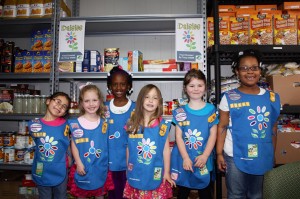 Submitted by Tracy Nelson
Tracy Nelson shares what her Troop 30689, a first grade Girl Scout Daisy troop in New Jersey did to help their community.
The troop consists of a fantastic group of 11 Kindergarteners who were more than willing to participate and help the community. We gave the girls a list of service projects that we could do easily as 5-6 year olds: road side clean up, clothing drive, soup kitchen work, or a food drive. As a troop they voted and all of them decided they wanted to do a food drive. So in spring, we set about collecting can goods for a local food bank. We wanted to help people in the spring, because the girls thought people may forget that there are people who still need food after the holidays.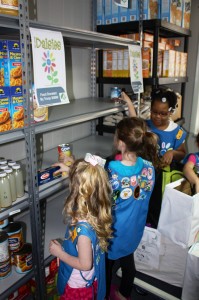 After a quick Google search, I found a food pantry that is in our service unit and is attached to a local church. The person in charge was very excited to have us participate. He explained that on days where they open their doors to the community, you can see a line around the building of people in need of assistance.
The girls decorated their own donation boxes that they got to take home. They took the boxes with them when they visited their parent's work; they took the boxes to their family members, and asked everyone they knew to donate. Some even came up to me at school and asked if I had food to donate to them.
I was so proud of the troop; they raised 3 shelves worth of food for the needy in our area, including a couple donated boxes of Girl Scout cookies! The girls were so happy, I've never seen such big smiles as I did the day that we dropped the food off. It was very gratifying to see that the girls cared so much. The Food pantry was very appreciative & left the shelf just as the girls had stocked them because of how proud the girls were. All of the girls that participated received a Food drive 2013 fun patch & earned their Make The World A Better Place petal.
The pantry gave us a tour of the building, explaining how they get their bigger donations; how the people come to collect food, personal care items, and even clothing. They took a picture of the girls and mentioned us in their online newsletter.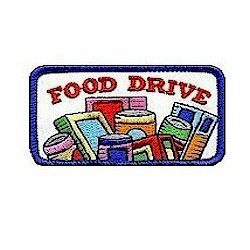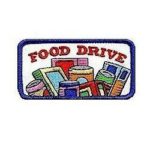 We already talked to the returning girls about expanding the food drive to include items for pets and personal care items. Their goal is to increase the amount donated every year and hopefully get the entire service unit involved eventually. They want to continue to do it in the spring, after the cookie sale and after the holidays.
It's amazing to see girls so young take something like this and run with it. It lets me know that the future generations do care and will help to make things better.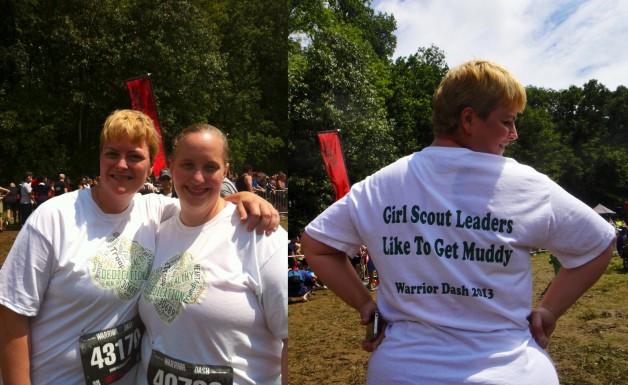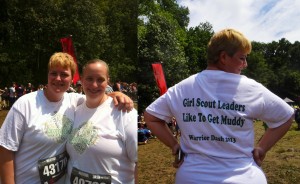 My name is Tracy & I'm a 36 year old full time working mom of 3 girls…Katherine (6), Madison (3), & Mackenzie (8 months). I was a Brownie & Junior Girl Scout as a girl & couldn't wait to get Katherine into scouts as soon as possible. I was not planning on becoming a leader in any way. I was pregnant & due in January & had 2 other kids to get to school & activities, while working…I just didn't see it as a possibility. However, no one stepped up at the parent's meeting to become a leader. So when another working mom offered, I said I'd be the CO. She eventually backed out, leaving me to fend for myself. I enlisted my sister in law (who has a 13 year old son in boy scouts) to be my co-leader & we managed to start the troop up right at Christmas. I then had my 3rd daughter right after cookie sales started & was home in time to get our 1st warehouse order. 🙂 I love being the leader to these girls. It's so amazing to see them smile at me, run up and give me a hug, or call out "MISS TRACY". I couldn't have made it through last year without my sister in law, and now I have another wonderful second co-leader – a mom from the troop. I'm so excited for what the future holds for us! Here is a picture of my Sister In Law & I at a Mud Run this past August…You can see by the back of my shirt, that we wanted to represent the leaders out there who do it all!