submitted by Lindsay Foster
My troop have been together for over seven years, we explained to girls early that we expect that they will live the Law, not just recite it every two weeks when we meet. As a leader, I have watched these young women grow from Daisy, Brownie Girl Scouts to amazing Cadette Girl Scouts. This story tells about those young women and how they are a sister to every Girl Scout.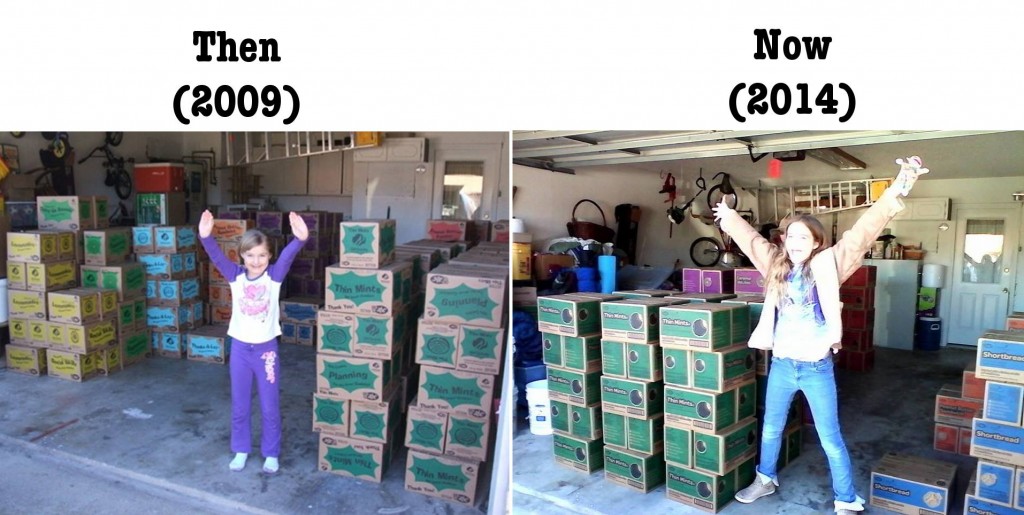 Being a Sister To Every Girl Scout During Cookie Season
In our Council, if a Scout sells a certain number of Girl Scout cookie boxes, she earns a special status known as DIVA. The DIVAs get special recognition patches and an overnight trip to celebrate their accomplishment. At the time of this story, DIVA was 1000 boxes per Scout. It has since been increased to 1200 boxes.
My daughter, Mary Grace, was diagnosed with Asperger's Syndrome, an autism spectrum disorder, when she was eight years old. She struggles daily with sounds, crowds, social rules, and eye contact. Every year, during troop cookie sales training, we have to cover the "it's alright to talk to strangers at a table top" rule for her because in her universe only black and white rules exist – there are NO shades of grey. In this year because my co-leader's daughter (and her very good friend) had achieved DIVA status the previous year, Mary Grace decided that she would ALSO become a DIVA. It was an increase on her previous year's sales, and she figured that she could do it.
As the sale was coming to a close and the final weekend had arrived, Mary Grace and I were paying close attention to her total boxes and determining how many (on average) she needed to sell personally or at troop booth sales in order to achieve DIVA. She was about 250 short of her goal, and while getting 250 boxes in a weekend isn't insurmountable, it's not easy either – particularly at the end of the sale. Mary Grace had headed to a local grocery store chain to sell cookies (as scheduled by our troop) but when we arrived, so had a young Daisy Girl Scout troop. The store had double booked troops; Mary Grace and I knew that two other Scouts (who had already earned their DIVA goal) were holding a troop booth sale simply because it was available and we needed it staffed. I got on my cell phone, called the mall where the booth was being held, and let our troop leaders know that we were on our way due to the snafu.
And this is where the sister to every Girl Scout part comes in the other two Scouts who had already earned their goal and were simply working to help out the troop, offered to stay at the mall (even though they could have gone home and had a very deserved day of rest) to help my daughter make her goal. Those two young women, who are still in our troop today, walked the mall and directed customers to the table, using their vibrant personalities to attract individuals – something that was beyond Mary Grace's abilities at the time due to the crowds, the noise, and the overwhelming atmosphere. As we kept a count (and got closer to the final 1200 goal) the girls began to call out across the mall "fifty, forty-nine, forty-eight" counting down to 1200 and encouraging individuals to "buy just one box and help her reach her goal."
I cried that day and I cry every time I tell this story, mostly because my heart swells with pride – not only because my daughter achieved her goal at 3:06 P.M. on the last day of sales, but because those two young women lived the Law – and I was there to see it.
Lindsay Foster is a troop leader in Girl Scout Troop 2702 (Saginaw, TX). Mrs. Foster is the mother of three Scouts (a Star rank Boy Scout, a Cadette Girl Scout, and a Scout rank Boy Scout) and has been involved in Scouting as a youth member and leader for over a decade. Mrs. Foster is active in North Lake Trails Service Unit and Girl Scouts-Texas Oklahoma Plains Council. Troop 2702 is the home of the SWAPS try it, Junior badge, and Cadette proficiency badge as well as other badge programs.