Girl Scouts + Camping + Earning a Badge = FUN
We are all going camping for the weekend, so now what? Does anyone else ever feel like that? I know there are plenty of things to do that are a necessity at camp that would just fill up this entire page, but what about all the in between time? How can we keep the girls actively engaged and still have fun without hearing the dreaded, "I'm bored" statement.
When planning on going camping with twelve girls, I always collaborate and plan with my camping moms and then bring our ideas back to the troop. I have to consider the ease of activities, cost, location, weather, and even how much space it would take up in the car to transport everything to camp. After all that, the girls voted to earn the "Celebrating Community" Brownie level badge. Below, I am going to share with you each of the steps that my troop did to complete and earn this badge. I hope that you will be able to gain ideas or even complete these activities with your own troop.
STEP #1: Explore Community Symbols: Go on a flag hunt.
When we are going on a long car ride, I like to have things to do to keep the girls occupied. Instead of hearing the typical phrase, "Are we there yet?" I try to find activities to entertain the car riders. This trip, we were able to incorporate the badge work into the travel time. A page long spread sheet was created for the group of girls in each car. It was mounted on a clip board and given to them with a pen to write with. On one column, the girls were to write the type of flag that was seen. On the other side, the girls were to record in tally marks the number of times that flag was seen. The girls worked together as a team, it kept them looking out the windows and observing for flags, and they had to share with each other.
To complete the last part of step #1, find three flag facts, we had done this previously at a meeting. Some other ideas were to have the girls find the facts and bring them for homework to share at the next meeting, add 3 different facts to the flag recording sheet and let the girls read them aloud to one another, or state 3 different important American flag facts during the announcements section of a flag ceremony.
STEP#2: Sing Together: Choose National Songs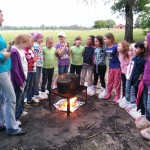 Since the girls love to sing, why not add this step of the badge to our evening campfire? We previously choose the three required songs and lyrics with the help of the internet. The lyrics were then printed out onto a page so the girls were able to read and sing along. We sang America the Beautiful, Star Spangled Banner, Texas, Our Texas, and Deep in the Heart of Texas. I can now add these pages to our Girl Scout troop song binders and the girls can choose to sing the songs again at another Girl Scout campout.
My other ideas for national songs to sing would be "America" or "Yankee Doodle." If you choose to do the "Find three celebration songs," why not just celebrate being at camp with the troop and sing traditional Girl Scout songs, such as "Pink Pajamas," "Barges," or one of my troop's favorites, "Once a Girl Scout Went to Camp."
STEP#3: Follow the Parade: Join a Parade
This is the one step that we had previously completed outside of going to camp, but I am going to give you some ideas on how you could do this with your troop in your own community. During the holiday time, we joined a bike parade through a neighborhood to view the light displays home owners had decorated their houses with.
For all other troops looking for ideas on how to complete this step, there are several parades for holidays in your community that you can join. You could choose to have a Girl Scout troop costume parade to celebrate Juliette Gordon Low's Halloween birth date. Maybe you are even doing a service project where you have to go around the neighborhood collecting items, just think about how you could make that into more fun by incorporating a parade!
STEP #4: Be a Landmark Detective: Follow a Landmark Trail
Going to camp always includes a hike when you are a Girl Scout. I read the map of the camp property and found three landmarks. The trails were easy to walk on and have trail markers so navigation was simple. At this camp, we chose the Haunted House (which is now a shelter with picnic benches and a fire place where the original property owner had his cabin), the Doll House, and the Play Area.
There are three other Brownie badges that come to mind that you could incorporate into this hike, which are the: "Hiker," "Senses" and "Letterboxer" badges. if you would like more information. If you are having difficulty finding three places to hike to, you might call the ranger prior to arrival at camp.
STEP #5: Join a Ceremony or Celebration: Join a Flag Ceremony
When we go camping, we always perform a flag ceremony. After everything arrives at the campsite from the cars, we have a troop flag ceremony. We have scripted cards for the caller. We pick five girls to be the color guard and then follow the ceremony. At the end of our camping experience, we then perform the closing ceremony.
If you don't know how to do a flag ceremony, then maybe you can participate with another troop at camp or sometimes are done at service unit events.
Submitted by Laurie Chmarney