submitted by Paula Riggins
We have 9 Brownies and they are all wonderful and sweet as can be. I have no doubt they will all grow up to be fantastic people and wonderful leaders in our community. But these girls spend an entire day at school then go home to complete their homework, quickly followed by sitting down to eat dinner so they can hurry to the car where they sit to be driven to their Girl Scout meetings. So when they get here they are normally thrilled to see their friends and are ready to have some fun. The look on their faces when I say "Sit down and get out your pencils" is scary enough to strike fear in the heart of the most devoted and brave leader.
So when reading though requirements I am constantly trying to find a reason to get the girls up and moving around the room while checking off our list of goals for the night.
Brownie Making Friends Badge – Hitting a Home Run With Fun
I was thinking through the Making Friends requirement #1 – "Practice introducing yourself to a new friend." At first, I'm thinking we will just pair off and pretend to introduce ourselves to each other. Too bad I don't have new people to introduce them to. Now I do have a group of Moms that sit in the hallway waiting for their girls to finish. This is where a plan began to form. Since I was pulling together my plan a little late, I didn't have time to prepare the moms. Instead I packed up some items in a garbage bag (to make it a surprise for my daughter too) and thought well I'll throw it out there and we can see what happens.
As I walked into the meeting room, I handed the bag to a mom and whispered my plan. She laughed and said she would take care of it. After the usual promise, law, learning a song about friendship and a short discussion to challenge the girls to go out of their way to be a friend this week, we paired up and I lead the unsuspecting girls to the hallway. I told them they would get a chance to meet some new friends.
I really had no idea what to expect since I didn't have a chance to follow up with the parents. I did notice the moms were not in their usual seats and the normally open doors were all closed. I placed 3 groups in front of the 3 doors and gave instructions. I told them to take turns introducing themselves and their friends, ask the person inside what their name is and ask them to tell you a little about themselves. 1 – 2 – 3 GO!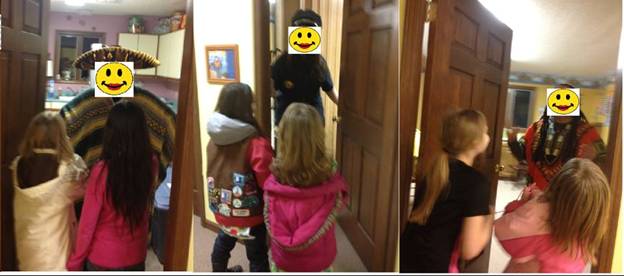 When the three doors opened the girls were met with some of the most interesting new friends you could ever find. These awesome moms were dressed in full costumes speaking in their best accents. One mom really got the girls giggling in the giant sombrero calling herself Juanita. Officer Friendly told the girls to be safe. They were fascinated with her plastic handcuffs and asked her all kinds of questions about her job. But the Jamaican Mon and the accent that greeted the girls at door number three sent me running for my camera! The girls loved it! The moms had a blast hamming it up for the kids! We all laughed so hard! Oh yeah and did I mention, it fulfilled a requirement too?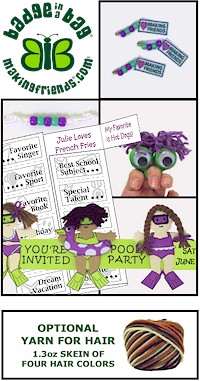 Another great addition for your meeting while earning the Making Friends Badge. Get the Badge in a Bag® from Making friends to add to your fun while working on requirements. Your girls will get to know each other better, learn problem solving and squelch any sign of bullying and early cliques. The girls will get to make 3 SWAPS, a friendship bracelet, a wiggly eye finger puppet, complete the friendship work sheet and make MakingFriends Paper dolls. Get your kit here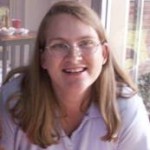 Paula Riggins was a girl scout herself, way back when every brownie still wore beanies! She graduated from Sullivan University with a bachelors degree in Business and it a Programmer Analyst for a Fortune 500 company. If you ask she will tell you working with kids is her passion. Paula is a Christian wife and mom of two kids. Over the last 15 years she has taught Sunday school and directed Vacation Bible School at her church, as well as several Bring a Child to Work Day programs for her employer. She started as a Cub Scout leader when her son was in 1st grade and is very proud to say that he is currently a Life Scout working towards the highest rank of Eagle. When her daughter was born she couldn't wait to get involved with Girl Scouting again! Paula has been a Girl Scout leader for the last 2 1/2 years and is looking forward to many more to come.