Pacific Island Paper Doll Friends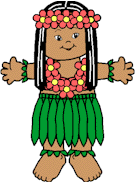 Dress your friends in beautiful clothes from the islands….grass skirts, sarongs, aloha shirts and more.
You Need:
Print Clothes:
Instructions:
Choose your paper doll pieces below. Cut them out. Color if necessary. Glue on clothes and hair. Choose a project and make it a craft!
Print Bodies and Hair: