Recycled Cookie Box Visor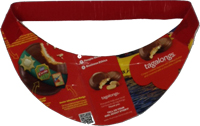 Eat plenty of cookies you'll need one empty box for each girl in your troop so they can make visors to wear on their next hike.
You Need:
Empty Girl Scout Cookie Box
Stapler
Scissors
Duct Tape
Clear Contact Paper or Clear Packaging Tape
Instructions:
Print pattern. Open up an empty cookie box. Lay flat. Staple all around the outside edge of the pattern to box. Cut out. Cover with clear contact paper or clear packing tape. Tear off a 15″ piece of duct tape. Fold in half the long way. If tape is too sticky to work with, stick it to your clothes and peel off a couple of times to reduce tackiness. Use a piece of duct tape to tape one end of folded strip to one side of the visor. Measure for size and tape the other end.