Terrific Toffee Waffle Treats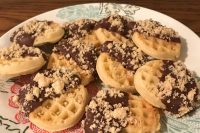 Easy No Bake Recipe using Toffee Tastic cookies
You need:
4 Toffee Tastics
12 Frozen Waffles (we used mini waffles)
12 oz Chocolate Chips
Instructions:
Crush Toffee-Tastic cookies.
Toast waffles according to package directions.
Melt chocolate chips in microwave for 30 seconds at a time until melted.
Dip Waffles in chocolate.
Place on wax paper.
Sprinkle crushed Toffee-Tastic cookies onto the chocolate covered waffles.
Refrigerate until chocolate is set.