Scavenger Hunt Patch Program®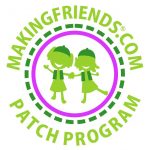 This 2″ iron-on embroidered patch is part of our patch program®.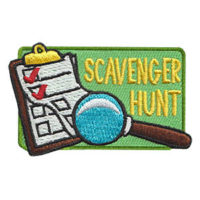 A scavenger hunt is a fun way to learn new things and be active. Look online. There are scavenger hunts for every season and every event. They can be done in groups with teams or individually.
Suggestions for how younger girls can earn the Scavenger Hunt patch:
Complete a scavenger hunt.
Choose a scavenger hunt. You'll find a variety of free printable color scavenger hunt lists at FreeKidsCrafts.com. If you are going outside make sure you are dressed properly for the time of year and wearing sunscreen. Remember safety first. Use the buddy system and stay in the designated area. Find as many things as you can on your scavenger hunt list in the amount of time allowed
Suggestions for how older girls can earn the Scavenger Hunt patch:
Design a scavenger hunt.
Think of a new idea for a scavenger hunt. An online scavenger hunt? A Girl Scout* hunt? Virtual? Will the participants be using their phone or a checklist? Challenge your friends, family or another troop to complete the scavenger hunt.
Suggestions for Community Fun:
Hold a weekend-long scavenger hunt with clues at local businesses.