Save Water Patch Program®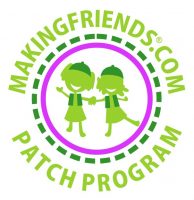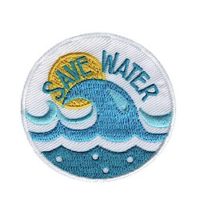 This 2″ iron-on embroidered patch is part of the patch program®® from MakingFriends®.com.
Suggestions for how Scouts of all levels can earn the Save Water Patch:
Save Water:
Turn off faucet while brushing teeth.
Use re-usable water bottles whenever possible. It actually takes water to make water bottles. And the bottles themselves add to pollution.
When you have left over drinking water, don't pour it down the drain. Use it to water plants instead.
Use less electricity. Power plants use a lot of water for cooling. Saving energy also saves water.
If you see a leaky faucet or pipe, let an adult know. Repairing leaks saves water.
Fill up the dishwasher before running it.
If your washing machine does not have a load sensor which uses less water for smaller loads, doing full loads of laundry is also a water saver.
Re-use pasta liquid. Encourage your family to drain pasta water into another pot. Once the water cools, it can be used to water plants.
Think about other water that you can use to water plants instead of pouring it down the drain.
Learn the hidden water in every day products using the water footprint calculator
Share what you've learned about saving water.
Spread the word about water conservation.
Meet with younger troops and share what you've learned about saving water.
Start a re-usable water bottle campaign.
Providing rain barrels to local facilities that will use them wisely is a great service project.