Leave No Trace Patch Program®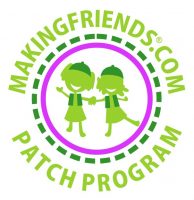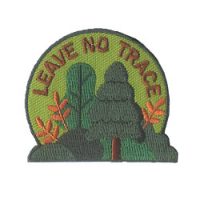 This 2″ iron-on embroidered patch is part of the patch program®® from MakingFriends®.com.
Leave No Trace:
Make sure not to leave anything behind.
Make sure that garbage is bagged and carted out as well.
Make sure nothing was damaged during your visit. If something was damaged be sure to repair and/or report the damage.
The girls should not take anything like plants or rocks unless they have permission from the campsite director or park ranger to do so.
Practice good campfire habits. Build small fires in approved places. Put out fire and dispose of coals, wood and ash properly. Do not throw garbage in the campfire.
Do not feed wildlife, approach or chase them.
Remember to be considerate to others. Avoid yelling and screaming so everyone can enjoy the sounds of nature.
While girls can and should know and practice the above, taking an active part in one or more tasks will be a great way to reinforce Leave No Trace.
Suggestions for how Daisy* and Brownie* Girls can earn the Leave No Trace Patch:
After packing up the cars, the girls can inspect the space one more time to make sure nothing was left behind and all garbage has been removed.
Suggestions for how Junior* and Cadette* Girls can earn the Leave No Trace Patch:
Girls this age should be making sure that the food they use during their stay is not impacting the environment. They can make sure that coolers are properly locked and all food is stored as directed to prevent critters from getting into it. Walking around and eating leads to crumbs and spills. The girls can set up a designated area for eating and keep the area clean not only of food containers but also of dropped food and crumbs which can attract animals and bugs. Girls this age can also keep an eye out while they are visiting to dispose of any garbage that was left in the area by previous campers.
Suggestions for How Senior* and Ambassador* Girls can earn the Leave No Trace Patch:
Leave No Trace starts with planning. The girls should review and understand the rules of the campgrounds or park they are visiting. The girls will need to decide how they will handle garbage as part of their planning process. They can also make plans that will minimize the amount of garbage during their visit.
*MakingFriends®.com is not affiliated with, endorsed by or a licensee of Girl Scouts of the USA.