Good Manners Patch Program®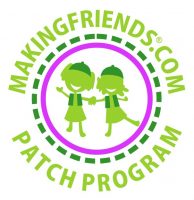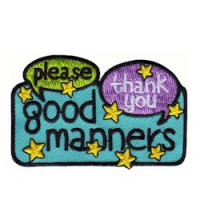 This 2″ iron-on embroidered patch is part of our patch program®®.
Suggestions for how kids of all levels can earn the Animal Advocate Patch:
Help your scouts earn the Good Manners Patch by going beyond please and thank you. Use some of our suggestions below and ask the group to come up with their own ideas of what they think demonstrates good manners.
When meeting someone new introduce yourself and shake hands
Open door for others
Offer a seat to someone who is elderly or disabled
Pick up something someone dropped for them
When there is a line wait your turn patiently
Listen when someone is talking and make eye contact to show you are paying attention
Raise your hand instead of shouting out when in a group
Write thank you notes
Practice answering the phone politely
At meal time or while working with shared supplies, ask for an item to be passed to you instead of reaching over someone or grabbing the item away from another person