Front Line Worker Support Patch Program®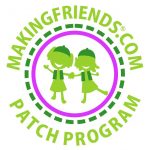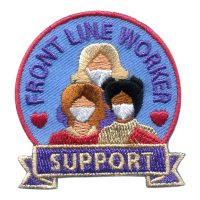 This 2″ iron-on embroidered patch is part of our patch program®.
Scouts of any age can support front line workers by showing their appreciation.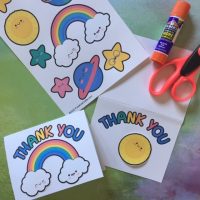 Suggestions for how younger girls can earn the Front Line Worker Support patch:
Making cards for front line workers is a great way to say thank you.
The Thank You Rainbow Card craft from FreeKidsCrafts.com was created for anyone who wants to thank front line workers. With free printables in color or black and white, kids of any age can create cards that will brighten a hectic day.
Suggestions for how pre-teens and tweens can earn the Front Line Worker Support patch:
Have your scouts make cards for front line workers. PLUS:
Help your girls identify who a front line worker is during the spread of COVID-19.
Emergency workers: doctors, nurses, firefighters and police.
Essential workers: Grocery and restaurant workers, truckers and many others put on masks and gloves and leave the safety of their homes to keep essential services available.
How many other essential workers can they think of? Offer hints such as:

How did they get mail and other deliveries?
Was the garbage still picked up?
Many community members are thanking hospital and ambulance staff as well as firefighters and police. And of course your scouts can do that as well. Challenge your scouts to think about others that they could be thanking as well. Suggest they ask the adults in their home to bring some of their thank you cards when they are going out to get supplies to hand out to store clerks. Put a thank you card for their mailman in the mailbox and tape some to their garbage can.
Suggestions for how teens can earn the Front Line Worker Support patch:
Complete the above requirements PLUS:
Help those in your community learn how to thank front line workers. Identify locations in your community that are accepting thank you cards. Find out where the cards should be dropped off or mailed. Share the information with the community via social media.
Consider making local drop off places in your community. Perhaps several troop members would be willing to leave bin in front of their house where anyone can drop off cards to be distributed. Each scout in the troop could offer to bring the cards to a different location. Always check with parents before agreeing to making your home a drop off location or volunteering to make deliveries.
Remember to also suggest that community members remember other essential workers as well. Take a look at the requirements for pre-teens and tweens shown above.