Feeding the Hungry Patch Program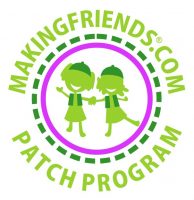 This 2″ iron-on embroidered patch is part of our patch program.
No one should go hungry. Do your part to help feed those in need.
Some organizations that help feed the hungry:
Suggestions for How Daisy* and Brownie* Girls can earn the Feeding the Hungry Patch:
Help in your neighborhood.
Often pantries are well-stocked around the holidays but need donations at other times of the year. Find a food pantry or soup kitchen in your community. Ask them what kind of food they need. Set up a donation box or a booth at the your supermarket to ask for donations.
Suggestions for How Junior* and Cadette* Girls can earn the Feeding the Hungry Patch:
Prepare Meals.
Ask your school nurse or at place of worship if they know of a person or a family in need. With your troop make casserole-type foods that can be frozen. Consider the size of the family. A shut-in senior would need single-serving meals while a family would appreciate larger tins.
Feeding the Hungry Patch:
Make it a lasting project.
Did you know that in some cities it is illegal to feed the homeless? Find out what the policy is in your community. Advocate for change if needed. Consider making and maintaining a Little Free Pantry.
*MakingFriends®.com is not affiliated with, endorsed by or a licensee of Girl Scouts of the USA