Mini Scout Pins for Swapping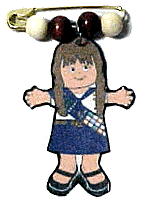 Print and "laminate" our mini Scout friends to swap at any age level.
You need:
Clear Contact Paper
Wooden Beads
Metal Jump Rings
Large Needle
Scissors
SWAP* Tags (not shown) (optional)
Instructions:
Print Mini Friends. Cover with contact paper and cut out. Poke a hole in the top of the mini Friend with a large needle. Push a jump ring through the hole. String two beads, the mini friend, and two more beads onto a coiless safety pin. Add a pin. If you are using optional SWAP* tags, write your message on the tag and slide onto the pin. Close pin.