"I Love GS" Magnet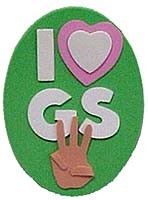 What a great project! Make a magnet to show how much you love scouting!
You need:
Craft Foam Ovals
Foam Hearts
Foam Letters
Magnet
Low Temp Glue Gun (optional)
Instructions:
Bend down the pinkie and thumb, gluing into place. Glue on foam letters and hearts to oval as shown in photo above. Glue hand in place. Hot glue magnet to back.