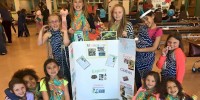 Madagascar | Ideas for Thinking Day*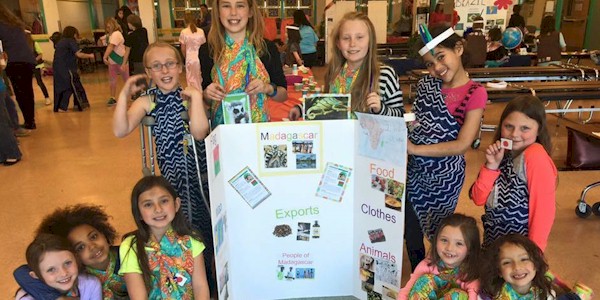 GSNMT troop 10398 representing Madagascar at their event.
Thanks to the DreamWorks movies, your girls have heard of Madagascar and rooted for some of its native animals. So when they realize that they can choose this large African island country for their booth, your troop will really "like to move it, move it." MakingFriends®.com has ideas and products to help make your celebration a success.
Superhero Prudence will guide your girls with ideas, activities and facts for their presentation when they use our exclusive Madagascar Download.
Fun Fact: There are no native "Penguins of Madagascar," sorry.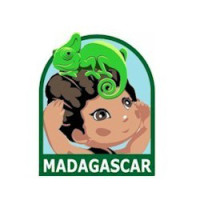 $0.99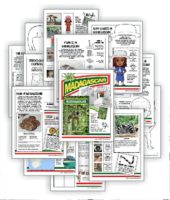 $15.00
Making wild animal crafts is a very popular activity, so the ideas for Madagascar pins for swapping will provide your girls with some unique options. Almost all of the plant and animal species found on the island evolved there and nowhere else. Famous for dozens of types of lemurs, Madagascar is also home to more than 100 kinds of chameleons, bats and colorful frogs as well as tortoises, crocodiles and bugs like millipedes and the hissing cockroach. For an awesome Madagascar pin, make a pony bead color change chameleon with magic beads that change color in sunlight. Or, if your girls love lemurs, they can tell all their friends with a lemur tail pin for swapping.
In addition to animal crafts and decorations for your booth could include a variety of plants. The island grows about 1,000 species of orchid throughout the year plus palms, ferns, succulent trees and medicinal plants like rosy periwinkle that have generated over a billion dollars in revenue because they are used to make anti-cancer drugs. Some familiar food plants here include coffee, cloves, vanilla, bananas and citrus fruits.
Serving food for Madagascar? Amongst the main course specialties of the cuisine, Ro and Ravitoto rank high. Ro is made by mixing rice with herbs and fragrant leaves. It forms the staple diet of the Malagasy people. For a sweet treat, they enjoy banana or pineapple fritters and make deep-fried doughnuts called mofo baolina.
If the troops in your area wear international costumes, you are in luck. A traditional Madagascar lamba costume will be easy to make without sewing a stitch. Don't forget a smaller, second piece of matching fabric to make a head wrap. Use the material scraps to dress tiny Madagascar clothespin dolls. Finally, the girls' favorite part – face paint! Many women in Madagascar paint a yellow paste on their faces as protecttion from sun and mosquitoes.
Additional ideas can also be found in African Countries / Thinking Day* Ideas.
*MakingFriends®.com is not affiliated with, endorsed by or a licensee of Girl Scouts of the USA