Honest & Fair: Scout Superhero Sincerity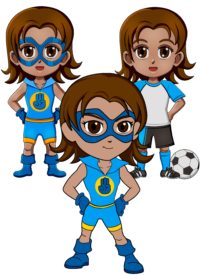 Meet Sincerity
Sincerity is Honest and Fair and has the super power to always play fair and never lies.
She is ready to help Brownies earn their Making Games badge and Daisies earn the light blue "Honest and Fair" petal.
Sincerity lives with her mom and dad, grandma and grandpa and two little brothers. She is teaching her brothers to play soccer fairly.
Sincerity's favorite sport is soccer but she loves to play all sports and games too. She wants to be a teacher when she grows up and also coach the school's soccer team.
Sincerity has a special mask that helps her see when someone is being dishonest or unfair. Her mask is her favorite color, blue.
Sincerity has a pet turtle named Fullback.
Save