Courageous and Strong: Scout Superhero Freedom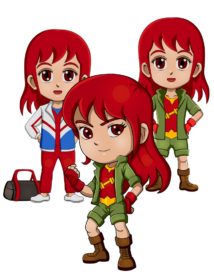 Meet Freedom
Harmony is Courageous and Strong and has the super power of bravery.
She is ready to help Brownies earn a "Troops Own" Be Prepared badge and Daisies earn the yellow "Friendly & Helpful" petal. She can also help Juniors earn the Staying Fit badge. Freedom also learned about Australia so she can help your girls prepare for their World Thinking Day celebration if they chose Australia.
Freedom's mother is in the service and she lives with her family on a military base. Her dad works at home to take care of her and her little brother. Freedom is proud of her mother when she has to go away to protect our country. It makes her sad too but she stays brave for her little brother.
Freedom loves science and math and is interested in bugs, snakes and reptiles. She would like to have a pet iguana but her dad said they move too much to have a pet.
Freedom wants to be a medic in the service and then an EMT or firefighter.
Red is Freedom's favorite color.