International Night: Girl Scouts Around the World
Each year on February 22 girls celebrate World Thinking Day. Girl Scouts participate in activities and projects with global themes to honor their sister Girl Guides in other countries. World Thinking Day also reminds girls they are part of a global community dedicated to the empowerment of young women.
In the spirit of this special day, the very first service unit event that the scouts in Troop 288 decided to host was for World Thinking Day. Our service unit had not held a World Thinking Day celebration in quite some time. Therefore our girls decided to plan and host "International Night: Girl Scouts Around the World" for their sister Girl Scouts. During the evening different cultures were showcased while comparing and contrasting Girl Scout and Girl Guide traditions across several countries.
Planning The Event
Once our girls decided on which countries they wanted to represent, they spent several months researching. They learned the culture, geography and cuisine of their respective countries. The girls specifically focused on learning about the Girl Scout (or Girl Guide) customs, traditions and characteristics of each country. Based on their research, they made comparisons where there were similarities, also noting where there were distinct differences. Each country had a colorful and informative display board that served as a backdrop for each scout's 10 minute presentation on their respective country.
Hosting Their Sister Girl Scouts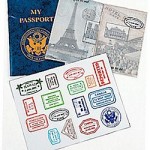 Upon arrival each "traveler" was issued a passport, to be used throughout the night to log each trip. Each traveler was also issued a destination rotation bookmark with each tour group visiting the countries/ destinations in the order listed on their specific group's bookmark. The girls were able to get their passports stamped along the way.
Once everyone had visited all of the evening's destinations our weary travelers were invited to our Food of All Nations table where they had an opportunity to sample native food prepared by our Scouts. After approximately 30 minutes of food tasting our travelers moved onto the final portion of our evening during which our scouts ran various activity stations that included internationally themed crafts, jewelry making, and dancing!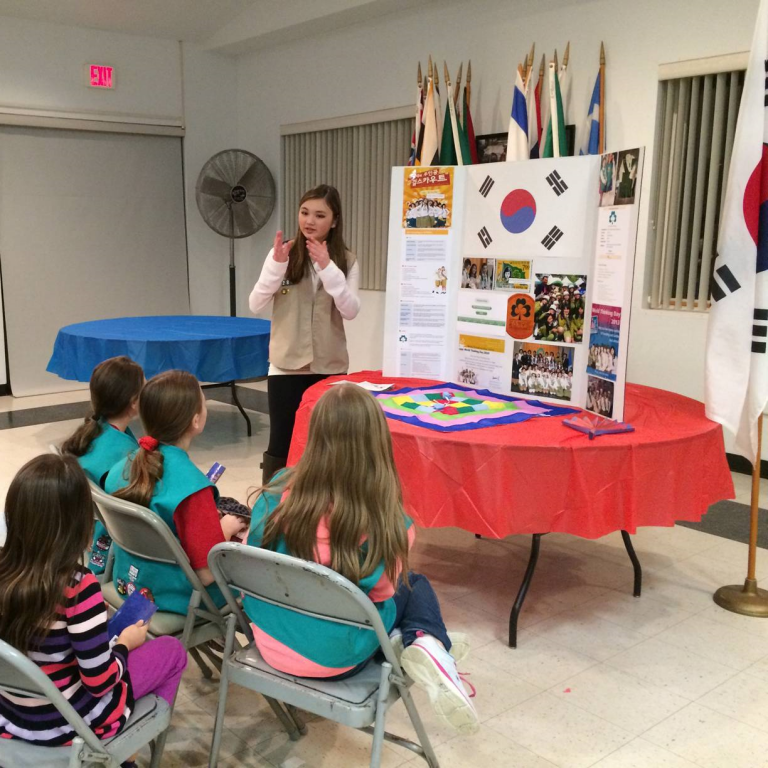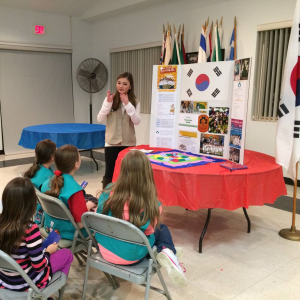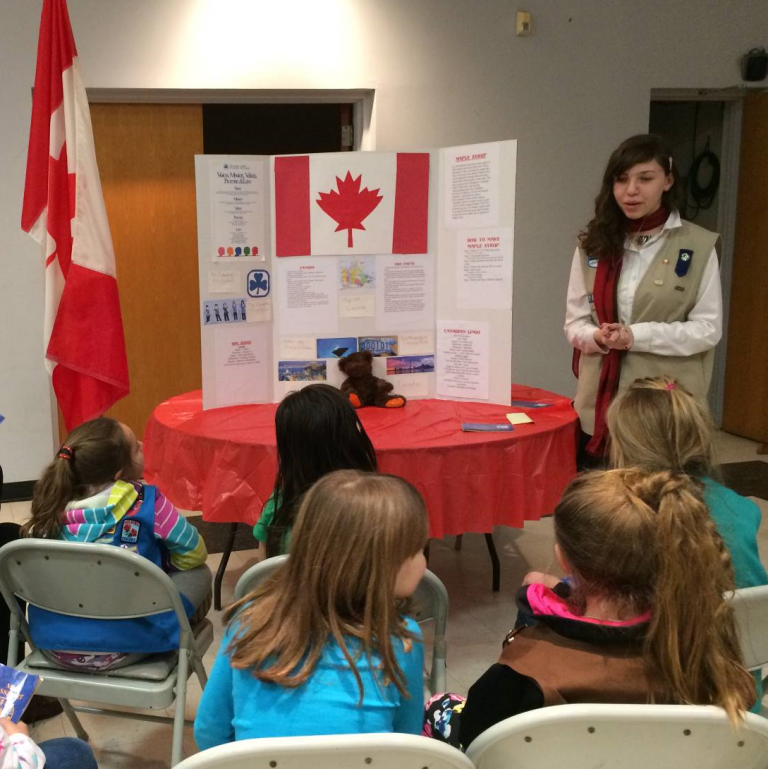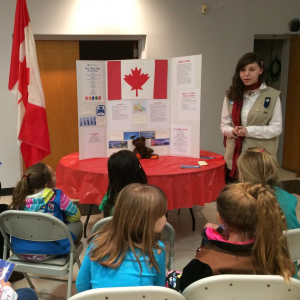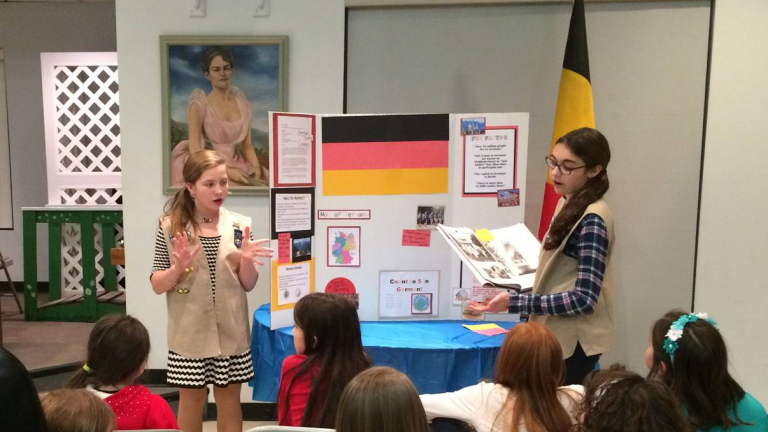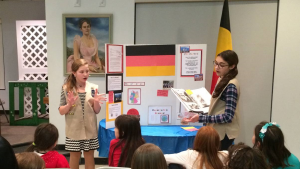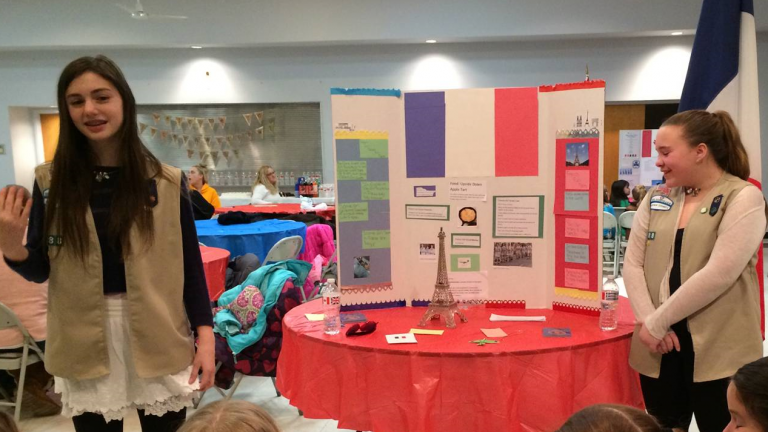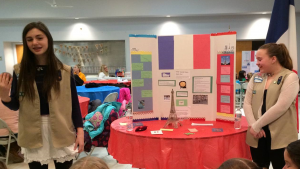 Inspiring A New Tradition
Since this humble beginning Service Unit 603 now hosts an annual World Thinking Day event. Our events are now run by multiple troops representing over 20 countries with over 200 visitors! The event encourages learning about and appreciating the customs of our sister scouts across the globe as well as celebrating each other!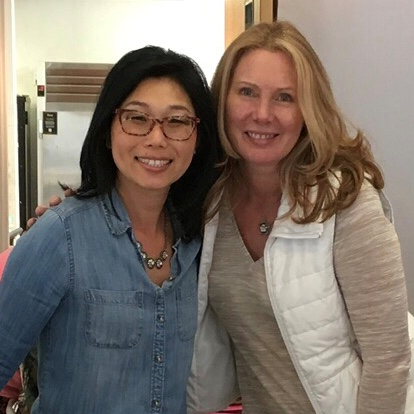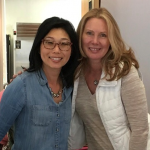 The leaders of Troop 288 are Bridgette Bock and Urie Tucker. Collectively, these leaders have over 17 years of experience in Girl Scouts. They share their insight, provide encouragement and support, and learn from each other and their scouts every day! Of course they are extremely proud of the capable, dedicated and amazing young women that their scouts have become! They look forward to the future with Troop 288!