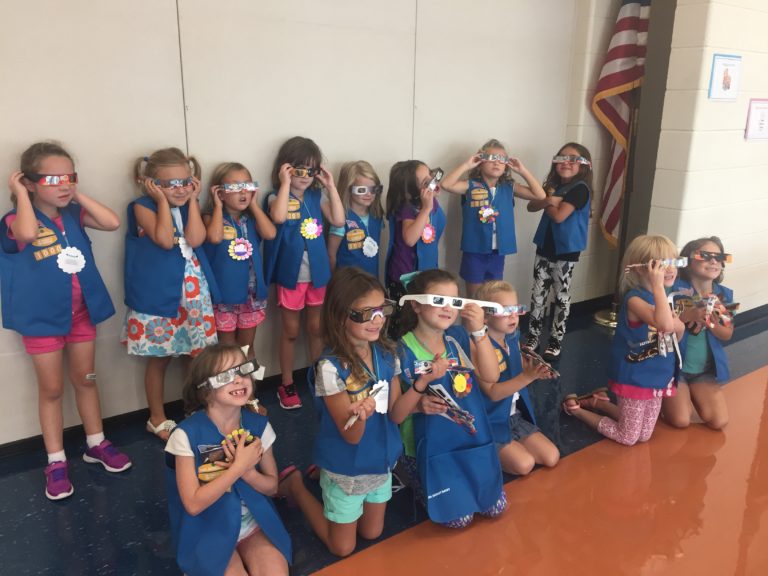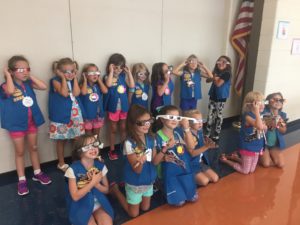 Solar Eclipse Fun and Service
With the Great American Solar Eclipse that happened in August, we wanted to do something special with our girls. We live in Missouri and were pretty close to see totality. Some families made the 15 minute (or more) trek to see totality and of course we wanted to know what they saw! I found some solar eclipse patches at our Girl Scout store and couldn't pass them up! Also, I found an eclipse worksheet on Pinterest which we had each girl fill out. The girls shared what they did, who they were with, what they saw, learned, felt, etc.
Our co-leader Melissa came across a place that we could donate all of our solar glasses; it's called Astronomers Without Boarders. This company takes our donated solar glasses and gives them to people in Asia and South America for the 2019 solar eclipse. We asked our girls to collect as many used solar eclipse glasses that they could find. During our meeting we discussed our solar eclipse worksheets and then our parents counted up how many solar eclipse glasses that the girls collected. We collected 223 glasses!!!! The girls were so proud of themselves.
Family Picnic and Investiture Ceremony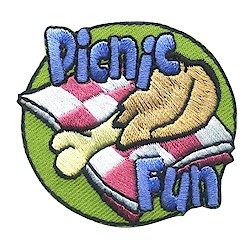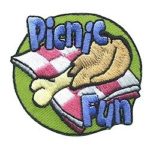 Another activity that we did with our troop was a Family Picnic. Melissa and I wanted to give our families a chance to get to know each other so we figured a family picnic was a great way to do that! First, we contacted a local park to see if they'd donate a shelter to us. The park was willing to help us out! This location was great because it had 2 shelters with picnic tables, a playground for smaller children and a playground for bigger kids. It also had a basketball court, baseball field and a tennis court! There was something for everyone at our park! Next we wanted to keep the cost down for the families so we asked them to bring their own food and drinks but we were going to have an ice cream sundae party where the toppings were provided by the families.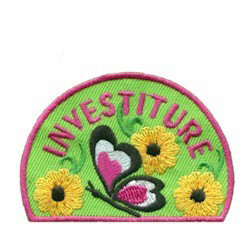 During our picnic we had our investiture ceremony. Melissa and I wanted to give the girls a visual by having a bouquet of daisies. I was able to get some florists to donate 28 daisies for our ceremony. We have 14 girls in our troop so during the ceremony we talked about how a bouquet of daisies is beautiful but it's each individual flower that makes up the entire bouquet. At this point, we handed each girl a daisy and then handed a daisy to each mom, as well, for all of their help in our troop too. Finally it was time for the pinning of the insignia tab. We asked for the moms to pin their daughter. This not only saved time but it made the ceremony more special for the families.
Earning Uses Resources Wisely Petal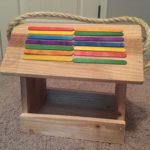 After our ceremony, we enjoyed our ice cream sundaes. For the last portion of our picnic one of our families used their leftover fence wood and turned it into bird house kits for each girl. The families really did well putting the bird houses together. It was a great bonding experience for the girls to use hammers and nails with their parents. Once they were done building the house, they used colored popsicle sticks to decorate the roofs and were given a baggie of bird seed! The girls earned their Clover petal for the bird house activity.
Hello! My name is Karen Sampson and I am a stay at home mom to a Kindergartner and a 4 year old. I am a co-troop leader with Melissa Davis. This is our first year with Girl Scouts. We have a Kindergarten and 1st grade Daisy troop. Our troop is having a great time and we are only about a month in! Can't wait to see what the rest of this year will bring us!
Save