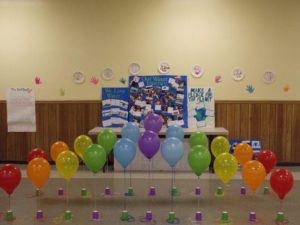 Need inspiration for creating a bridge for your next GS bridging ceremony? Leaders shared their ideas in answer to a leader's question.
Courtney needs some suggestions: Anyone want to offer do's and don'ts of bridging/ rededication ceremonies? Also, same question for an actual bridge?
Our Facebook leaders gave their advice for creating bridge for scout ceremony:
Debra suggested: Pinterest has some great ideas for creating bridges. You can have one person take off of the girl going over the bridge and then once they cross the bridge someone puts the new vest on the girl. A parent or co-leader can put on the new vest or if you have a multilevel ceremony the older girls put the vest on the new girl. There is no rule about how it's done so the sky is the limit. Our girls also sing songs and recite poems. Use Google which is a great way to search for ideas.
Tracy replied: We use an actual bridge by the lake in front of our church. Our troop used colorful balloons one year when it rained to create our own walkway indoors.
Susan shared: We have used lots of "bridges" — some more real than others. The bridge that was the easiest to prepare was a path we created in a pavilion. Artificial flowers lined the path we created and we incorporated a small mirror for a Brownie pond. Ask your girls for ideas because kids have good imaginations.
Carly's troop bridge: The bridge our troop created was made from pallets which also made it fairly light for transporting.
Linda's idea: You can use potted plants and mylar balloons. One of our moms had beautiful artificial potted plants. We lined those along the front and mylar balloons in co-ordinating colors along the back. The girls walked between the plants and balloons. Of course, this would also work with live plants.
Laura suggested: Reach out to your service unit or council. We contacted to our Service Unit which has a bridge that was created by a parent years ago. The bridge has a plywood base which is in the shape of a triangle and is covered with fake grass. Side rails for the bridge were created from wood railing and spindles. The bridge is assembled, attaching the rails to the base, with bolts and wing nuts. The rails have flower vines wired on for decoration. There is also pond which was also made from plywood and painted blue with a reflective paper mirror attached. Greenery (some attached and some placed during set up) complete the illusion. Our council also has a bridge that is smaller that they lend out to troops. Many troops use a blue table cloth and mirror for a pond.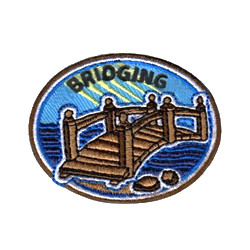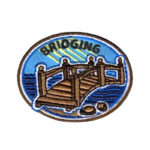 However you decide to create your bridge, you won't want to forget a Bridging fun patch for your girls to remember their celebration.
Save
Save
Save
Save