Leader question. We have a multilevel troop and are going camping for the first time next month. We have access to a kitchen but would like to do at least one meal over a campfire. What are some of your favorite campfire cooking ideas, recipes and treats.
Facebook Girl Scout leaders shared their recipes!
Elizabeth: Our girls love foil packet chicken. Each girl has her own packet and can add ingredients of her choice. Typically chicken breast, potatoes, onions, seasons, and veggies of your choice. There are also a lot of recipe options on Pinterest.

Courtney's idea: Nachos: use a cast iron skillet. Line with two large heavy duty sheets of foil. Add tortilla chips, prepared seasoned taco meat (ground beef or turkey) and cheese. Wrap and set in cast iron skillet on top of metal grate over fire. Flip foil with a pair of long tongs, take off fire once cheese melts. Pull off fire, plate and have girls add toppings… Salsa, guacamole, sour cream, olives, etc.

Tracey's troop: Our girls like macaroni and cheese and hot dogs most. S'mores of course. One time we did a banana with chocolate chips and marshmallows in foil which they loved. For breakfast you can do 'donuts'. (Grands biscuits with cinnamon & sugar)

Kathleen's help: If it's your first time, do something simple like hot dogs or pigs in a blanket on sticks, or a one-pot meal like a simple stew or chili. This is an old link, but it's pretty much what I was taught for outdoor cooking progression (I might have to look up my old camp staff manual when I get home). https://www.reocities.com/Heartland/Pointe/9385/cooktip.html

Anna wrote: Skip the kitchen and do it all outdoors. Breakfast burritos accommodate for a variety of tastes as well as the foil packet meals. Tacos too. Banana boats for dessert.

Lizet's recipe: CAMP DOUGHNUTS: We took biscuit (like Pillsbury, but the store brand works fine) and the girls mixed sugar and cinnamon in a bowl. Heated oil in a pan, enough to fry doughnuts. Then grabbed a biscuit dough, cut it in half, rolled it out in a "circle" and pulled it to make a hole in the middle. Then fried their own doughnuts. The girls asked to make these again next camp time.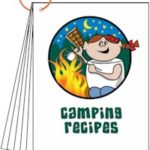 You'll want to let the girls keep the recipes they enjoyed on your trip. They can make their own camping recipe book with some popular recipes already pre-printed and blank cards so that they can add their own favorites.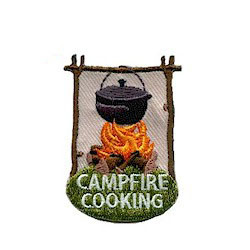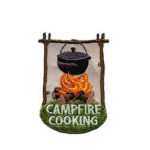 Your girls will certainly want a Campfire Cooking fun patch to remember their first time cooking over a campfire.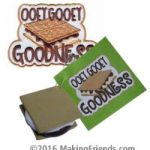 Of course your girls will also enjoy S'mores! SWAPs are also a fun way to remember your camping trip. Each Ooey Gooey S'Mores SWAP Kit comes with one free patch.
Header image courtesy of Carnivore Style