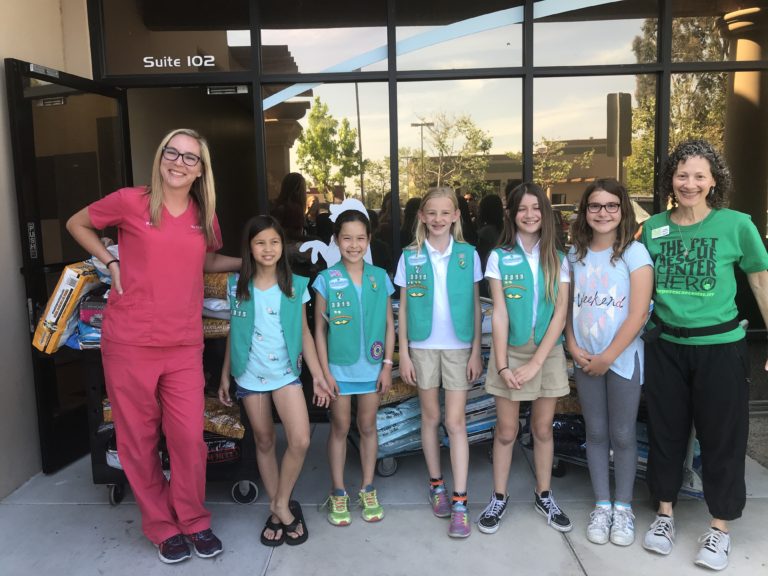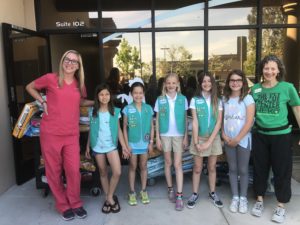 Girl Scout Juniors in Troop 3315 of Aliso Viejo, California recently completed their Bronze Award. This is the highest award a Junior Girl Scout can earn. The Girl Scout Bronze Award teaches girls leadership and planning skills by taking action in a community service project. The girls are fourth graders and will earn their Bronze Award during their first year as Girl Scout Juniors.
Troop 3315 showed its dedication to helping others and the community. The girls collected and donated 1,600 pounds of pet food and supplies to The Pet Rescue Center. This non-profit organization has a goal of saving the lives of dogs and cats at risk of euthanasia. Serving the Southern California, they provide assistance to at risk dogs and cats. Programs include Rescue Rehab Re-home, Education and Pet Pantry. For more information, visit online at www.thepetrescuecenter.org. The girls have dedicated over 100 hours of community service to helping pets.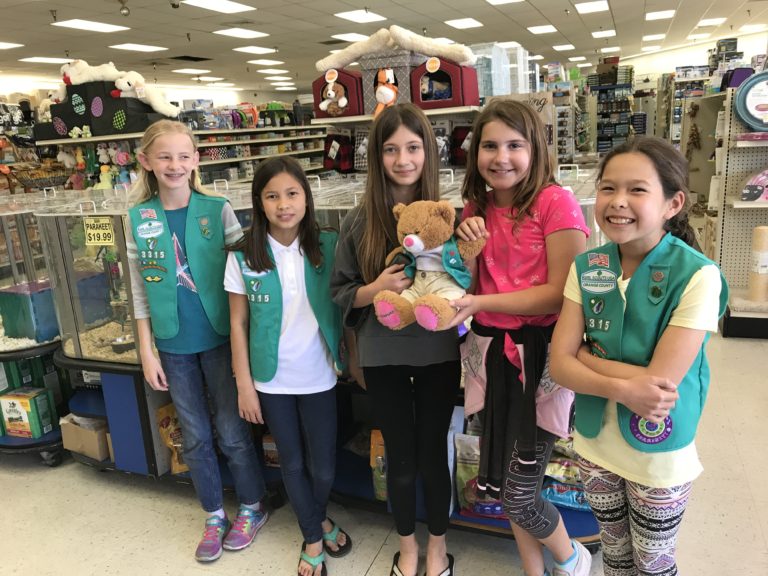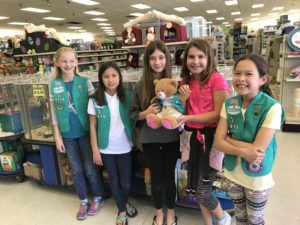 The Pet Pantry program provides hundreds of pounds of food and litter each month. The program helps over 175 cats and dogs owned by low-income pet owners throughout Orange County, California. The members of Troop 3315 collected the 1,600 pounds by partnering with local Pet Plus store locations in Laguna Niguel, San Clemente, Mission Viejo and San Juan Capistrano. www.petsplusca.com The girls from Troop 3315 also reached out to family, friends and neighbors to help collect pet food donations.
Making the Project Sustainable
Of course a project needs to be sustainable in order for the girls to earn their Bronze Award. Our Girls Scouts made our Bronze award project sustainable in two ways.
First, they created a you tube video which shares with other Girl Scouts troops how they can meet the requirements of a take action project by helping the Pet Rescue Center. The video was also posted on the pet rescue center website so it can also reach a broader community. Sharing the video in this blog will also help make the project sustainable. Troop 3315 Bronze Award Project video.
Second, we made an introduction to our contact at the local family owned pet store Pets Plus to the Pet Rescue Center. The pet store agreed to make donations in the future as well directly to the Pet Rescue Center. It was important to our Girl Scout troop that the project continue on into the future to help pets.
Quotes from troop members:
Emily Maxton, Junior Girl Scout, "Our Girl Scout Bronze Award project helped The Pet Rescue Center Pet Pantry Program, a program that provides food and litter to pets owned by seniors and/or low income pet owners throughout Orange County. Our troop collected over 1,600 pounds of pet food and supplies."
Brooke Plummer, Junior Girl Scout, "We choose to help The Pet Rescue Center because we love dogs and cats and wanted to learn how to be more responsible in taking care of pets."
Bella Coveyou, Junior Girl Scout, "We put the Girl Scout Promise and Law into action. We also put our artistic, communication, and leadership skills into action."
Rosanna Coveyou, Troop Leader, "These girls are remarkable young leaders and have made a huge difference in our community helping over 175 dogs and cats."
Quotes from The Pet Rescue Center: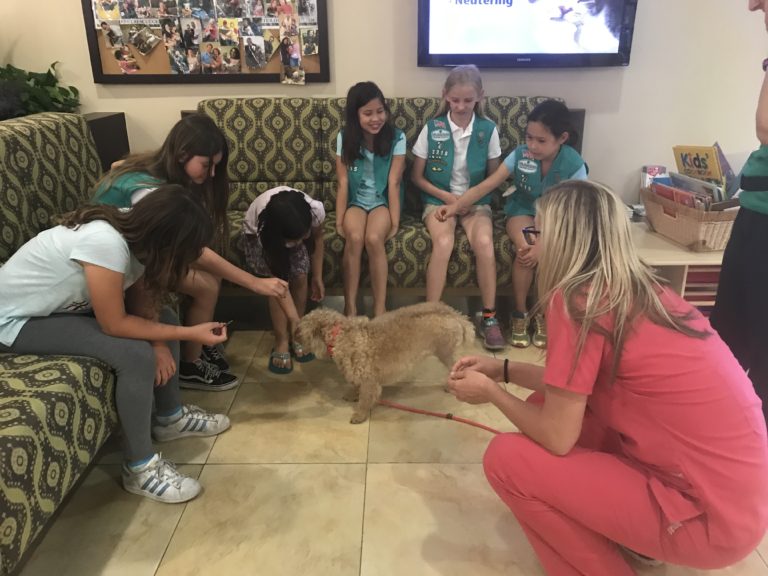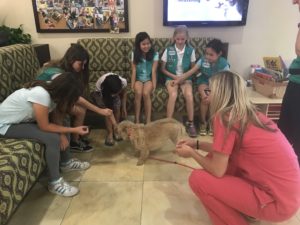 Lynne Ehrlich, the Educational Outreach Coordinator from The Pet Rescue Center said, "All of us at The Pet Rescue Center are simply blown away by your over the top effort to raise money and donations for our Pet Pantry program! 1,600 pounds of pet food for families who desperately need our help so they can keep their pets in homes and not have to give them up to a shelter. Together you have had a huge positive impact on our community and you have set an amazing example of how each of us can make a huge difference when we all come together for a goal –there are no limits!!! Congratulations on earning your Bronze Award!! You are all amazing and very special!"
Financial donations are always in need, as grant opportunities are limited. "These funds allow The Pet Rescue Center the opportunity to reach out and help pet owners in crisis, in our community, by providing pet food, cat litter, and other items (beds, shampoo, leashes, etc.), enabling families to keep their pets and thereby lowering the intake at shelters" stated Blythe Wheaton Co-Founder of The Pet Rescue Center.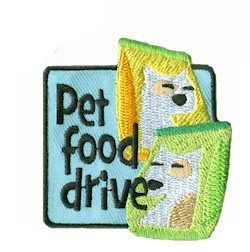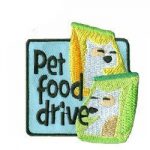 When your girls choose a project that means so much to them, the Pet Food Drive Patch from MakingFriends®.com is the perfect addition to their vests!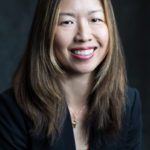 Submitted by Rosanna Coveyou, Girl Scout co-leader for Aliso Viejo, CA based Troop 3315