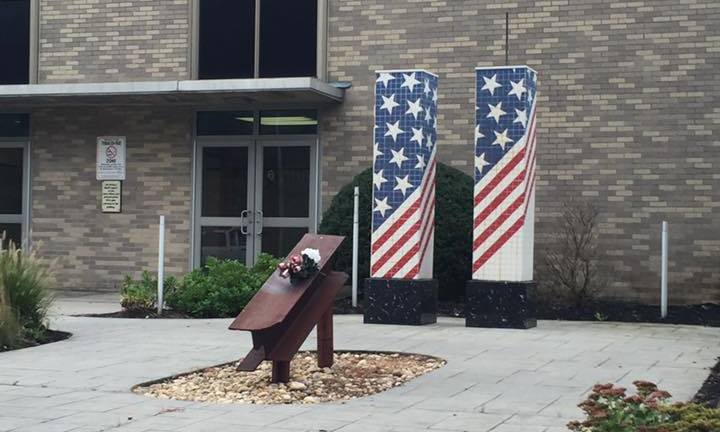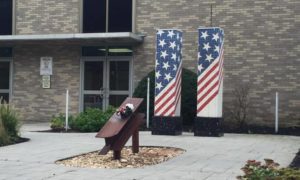 Our Service Unit is located in Long Island, NY. Our Girl Scout Service Unit decided to make September 11th ceremony plans for the years when the anniversary falls on a weekend. We wanted to share our plans, which was customized for our community, so that others could have a starting point for planning theirs.
We found a lot of information and inspiration by searching the internet and from our own experiences.
National September 11 Memorial 2012 Commemoration Planning Guide 911memorial.org/commemorate: On page 5 of this document we used the Observe Moments of Silence List. Page 6 lead us to the 9/11 Memorial & Museum Memorial Guide.
9/11 Memorial & Museum Memorial Guide: From this site we were able to pull up the names on the memorial. We did invite those participating to contact us advance about anyone they wanted recognized as part of our ceremony. We used the Find a Name on the Memorial tool. For names given to us, we could look up the name click on that for place of birth, residence, group and agency for our list. Then we searched the names of those in our community by town to make sure all community members were remembered at our ceremony. At our ceremony, volunteers used their cell phones and to access the links at the bottom of this page which lists names by the agency (building location, responder, plane, etc). By using this link instead of an alphabetical one, we were able to honor a some people from each agency during our ceremony.
List of Names Inscribed on Memorial: An alphabetical list of all the names inscribed on the 9/11 Memorial which also includes the 6 people killed in the 1993 World Trade Center bombing.
One volunteer watched the time and range the bell for each moment of silence. She was also signal when the moment of silence ended so the explanation of that moment of silence could be given and the ceremony resume. We gave her a printed guide of course for the times.
Below is our ceremony script which did include our placing two wreaths at the local 9/11 Memorial where we held our ceremony. The sections in bold were pulled directly from the Observe Moments of Silence List found on this website: National September 11 Memorial 2012 Commemoration Planning Guide 911memorial.org/commemorate.
8:46 a.m.:
Our ceremony began with a moment of silence at 8:46 am which is the time hijackers deliberately crashed Flight 11 into floors 93 through 99 of the North Tower at 1 World Trade Center
Color Guard advance
Color Guard present the colors
Please join us in saying the Pledge of Allegiance (no promise)
Color Guard post the colors
Thank you for joining us today to remember the events of September 11th and to honor the lives lost and changed forever.
Read names
9:03 a.m.:
At 9:03am hijackers deliberately crashed United Airlines Flight 175 into floors 77 through 85 of the South Tower at 2 World Trade Center.
By now we realized the first crash was not an accident.
By now we knew our lives would be forever changed.
Please join us in signing the national anthem
Oh, say, can you see, by the dawn's early light,
What so proudly we hail'd at the twilight's last gleaming?
Whose broad stripes and bright stars, thro' the perilous fight,
O'er the ramparts we watch'd, were so gallantly streaming?
And the rockets' red glare, the bombs bursting in air,
Gave proof thro' the night that our flag was still there.
O say, does that star-spangled banner yet wave
O'er the land of the free and the home of the brave?
Read names
9:37 a.m.:
At 9:37 am hijackers deliberately crashed American Airlines Flight 77 into the Pentagon in Arlington Virginia, near Washington, D.C.
Please join us in signing God Bless America
God bless America, land that I love
Stand beside her and guide her
Through the night with the light from above
From the mountains to the prairies
To the oceans white with foam
God bless America, my home sweet home
God bless America, my home sweet home
Read names
9:59 a.m.:
At 9:59am the South Tower at 2 World Trade Center collapsed.
The attacks of 9/11 showed us the worst in people.
But it was also a time when many wonderful, compassionate, and heroic deeds occurred.
Heroes were everywhere on 9/11 and in the days afterwards.
Many members of our own community rushed to the scene that morning. Firefighters, police, nurses, doctors and EMT's from our community and communities like ours that surround NYC, Shanksville, Pennsylvania and the Pentagon didn't wait to be called. They went to help.
Many more wanted to assist but knew it was important to stay out of the way so that emergency personnel could get there quickly.
The rest of our community did what we could at home, caring for and comforting the families of those who were at, or rushing to, the city.
Standing in lines for hours to donate blood.
Providing whatever support and supplies were needed as quickly and efficiently as possible.
It wasn't just in our own communities or even just our own country where compassion was shown. Flights were instantly grounded and all airports in the United States were immediately closed. People were stranded for days. The world responded with compassion.
Halifax International Airport in Canada took immediate action to receive 40 – 50 airplanes that were being diverted. They accepted the largest number of aircraft of any major airport. High schools, arenas and sports facilities were opened to accommodate over 7,000 passengers. The people of Halifax cared for and fed all of them until the last of the stranded passengers were able to leave 4 days later.
Support and compassion came from around the globe.
Read names
10:03 a.m.:
At 10:03am, after learning of the other attacks, passengers on United Airlines Flight 93 fought against the hijackers aboard their plane to try to seize control of the aircraft. The plane crashed into an empty field near Shanksville, Pennsylvania.
There is no doubt that the actions of these brave passengers saved countless lives.
The people who planned these attacks want us to be afraid. But the people of the United States are strong. We kept our faith in who we are and what we stand for. We have become stronger than before.
There are thousands of individual stories from that day. Remember that many of these stories are of bravery, heroism, home and compassion.
Please join us in signing America the Beautiful
O beautiful for spacious skies,
For amber waves of grain,
For purple mountain majesties
Above the fruited plain!
America! America!
God shed his grace on thee
And crown thy good with brotherhood
From sea to shining sea!
Read names
At 10:20, DO NOT RING BELL start speech:
We will remember New York City
We will remember the field in Pennsylvania
We will remember the Pentagon
We will remember the first responders who ran toward the danger while everyone was running to safety.
We will remember the construction workers who spent months at the site, doing work that most of us will never begin to understand.
We remember survivors whose experiences we cannot begin to comprehend.
We will remember those brave people on flight 93 who chose to give up their lives to save countless others.
We will remember all of the lives lost in the most horrific terrorist attack on American soil.
We will keep them and their families in our hearts.
We will remember that the entire world was affected by this.
We will remember that citizens from 78 countries died in New York, the Pentagon and Pennsylvania
We will remember the world stopped that day.
We will remember the Pride in our own country.
We place these two wreaths today to honor those who died, those who continue to suffer, those who sacrificed and those who continue to fight for our safety and freedom.
10:28 a.m.:
At 10:28am the North Tower at 1 World Trade Center collapsed. The 16-acre World Trade Center site is in ruins, with collateral damage affecting all adjacent properties and streets. A rescue and recovery effort begins immediately.
Our ceremony has ended but we can continue to honor these memories by being good to one another. The good works we do, not just as scouts but as citizens in our community, across the country and around the world honor their memory.
Color guard retire the colors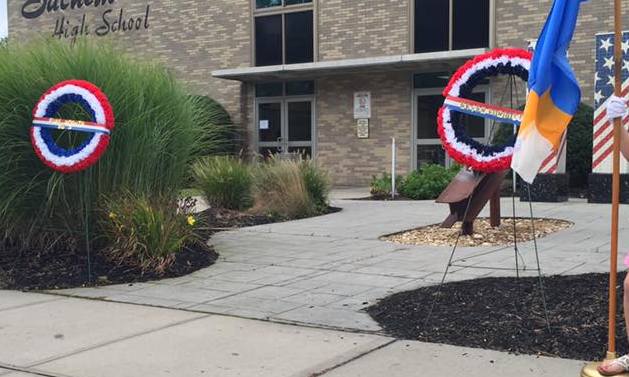 Below is the guide we printed for the volunteer who kept the time and ran the bell.
8:46 a.m.
Ring bell
8:47 signal to start
9:03 a.m.:
Ring bell
9:04 signal to start
9:37 a.m.:
Ring bell
9:05 signal to start
9:59 a.m.:
ring bell
10:00 signal to start
10:03 a.m.:
Ring bell
10:04 signal to start
At 10:20 DO NOT RING bell signal to start speech
10:28 a.m.
Ring bell
10:29 signal to start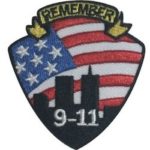 The 911 Patch from MakingFriends®.com will help your girls remember to honor the memory of those who died on September 11th 2001.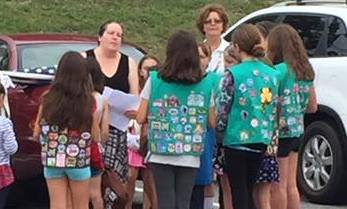 Laura Nealon has been a Girl Scout leader for 15 years. She has also been a service unit team member for all of that time serving in various positions including most recently co coordinator and currently co treasurer. Intimidated by ceremonies at first, she has become comfortable customizing ceremonies. Laura has been looking for a way to make ceremonies less intimidating to other leaders and hopes blogs like this will inspire other leaders. Pictured left are Laura and co-coordinator Mary preparing some of the girls for the ceremony.