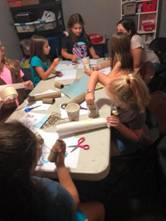 Recently my Brownies worked on doing the new Think Like an Engineer Journey. This was a great badge to work on, especially if your girls are very hands on like mine are. This journey was probably more interesting than the traditional journeys. I felt that having them create, collaborate, work together, and figure out how things work was more beneficial. Working together as a team, the girls each brought ideas to the table. Of course, they all helped each other work through the issues at hand and how to make it work. Most of the ideas I had for each step I got detailed descriptions from pbskids.org.
Creating a Helping Hands Device
The first thing we did was create a helping hands device. The girls had to think about what a helping hands device was. First I had them draw something they thought was a helping hands device. I also asked them questions while they brainstormed the ideas. Then I asked, "What is a helping hand device? Why would someone need one?" The girls created a device that could help someone pick up an object from the ground.
Designing a Water Collection Device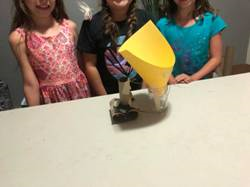 For the second step we took on our exploration through what an engineer is and what they do. We talked about water usage and the ways engineers could use their knowledge to help those in areas where water may be scarce. Perhaps during a drought, like the one that's been happening in California recently. Then the girls brainstormed ideas on how a water collection device could work. They thought about how to collect the water and how to make it accessible to those who would need it. The girls had to make a prototype of the device as it would be far too large to make a full scale version. They used cups, toilet paper rolls, tape and glass jars to make a prototype of a water collection device that could be built by a real engineer. My girls even went a step further and decided to add a filtration device to the side of the prototype. So their prototype could also give clean water to those who need it.
Building Pop Fly Devices
The third step we took to completing the badge portion of the journey is where we built pop fly devices. The girls were instructed to brainstorm a device that could launch a ping pong ball across the room and also pop the ball into a cup. Working together, they determined where they needed the lever action to be placed to get the best pop fly up from it. They had to figure out how to get the paint stirrer placed in the best location on the bottle / spool to make the ping pong ball fly into the cup. The girls really loved doing this portion because they were allowed to fling a ping pong ball all over the room.
Hands on Journeys are More Fun
With the other journeys my girls always felt that they were more like school, while the new Think Like A… journeys are far more engaging. Of course the girls really do prefer the more hands on aspects of the requirements. Allowing the girls to brainstorm, create and build things, they were able to be fully involved with the project.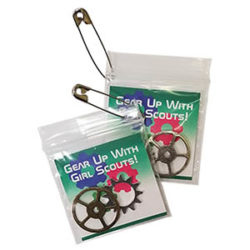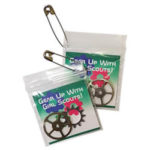 A fun pin for girls working on STEM and engineering badges or journeys! The Gear Up With GS Kit For Swapping from MakingFriends®.com is the perfect pin to trade at your next event.
Blog Submitted by Kayla Reyer
My name is Kayla Reyer and I am the troop leader of multi-level troop 6787 out of Cabot, AR. I have been a leader going on 3 years and have also served as the Recognitions Coordinator for our Service Unit. In addition I help plan events and camps for our service unit.
I really got to see my girls work on being more girl-led through this journey. The girls really got into the brainstorming and trying to figure things out. They wanted to work it out on their own and didn't want much help or input from me. This proved to me me that as they get older the more they will be able to take lead and become more comfortable in a leadership role.