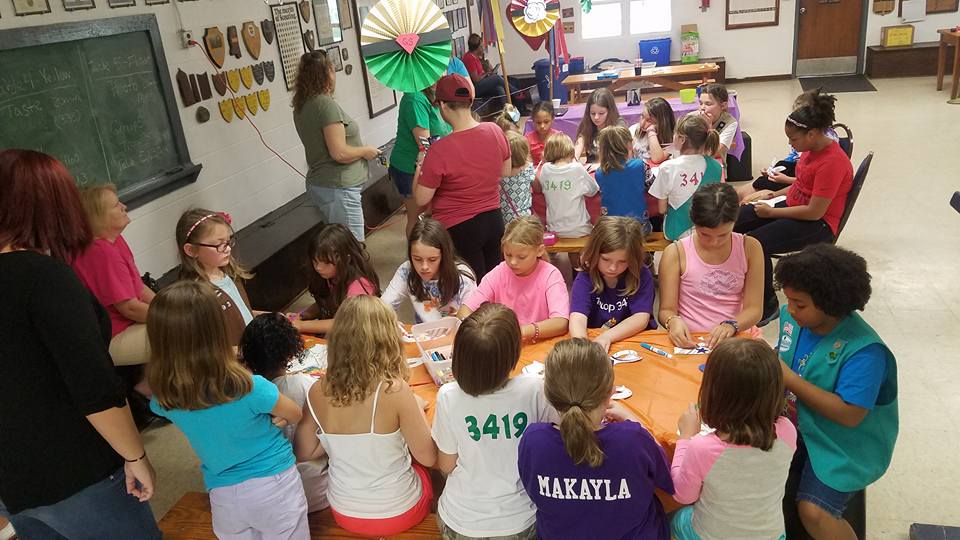 I recently planned and hosted the Biloxi Service Unit's 1st Annual Fall Product Sales Rally. They have a big rally for cookies but never for chocolates, magazines, and nuts. I thought that was nuts… pun intended. I spoke to the Council about hosting one and getting the incentives and products for tasting. They were excited to have someone finally stand up to do one. I was very nervous especially since I am not part of the Service Unit Board and I have never done this before. I was reassured by the team. My team consisted of the Product Chairs, Service Unit Members, and Council Members. Many gave encouraging words during the stress filled days and others during the overwhelming evenings. It definitely was a team effort event.
Now let's talk about the Rally. I had everyone register with their troop number and total girls paticipating. This way I could be sure to have the patches ready for them when the event was over. The decorations were made with cardstock, there was helium for balloons, and 6 tables set up for stations.
Training/Safety Table- They watched a video with the ABC Safety Kids on YouTube.
Script Table- A cellular phone template that I edited for the girls to use when making calls for orders. One of the Product Chairs helped with instructing the girls on how to make calls to family and friends.
Craft Table- They made super hero masks to take home after taking photos at the photo station/floor.
Tasting Table- They were able to taste a few nuts that were provided by the Council and see some of the other products being sold.
Drinks- Can't have a snack without something to wash it down with….water and lemonade.
Photo Booth/Floor- Blanket for sky and foam created buildings and clouds so they can fly and be photographed by our Paparazzi Girl Scout Dude.
Incentive Table- So the girls can see the prizes and think about their goal.
The way it was originally planned was rotation for each troop but not everyone made it on time so we did it by groups. It felt great seeing all the smiles especially the older Girl Scouts having fun. We celebrated for sure. We had a "Super Nutty Time"!
Fun patches are a great way to remember a fun rally or thank girls for their hard work.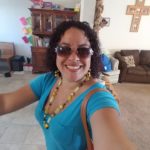 My name is Nashira Alicea but for the sake of remembering and keeping it simple for the Scouts, please call me Ms. Nachie. I am a stay at home mom of three beautiful girls and a handsome boy. I am currently in the Biloxi, MS area….will reside here for another two months then off to our next duty station. I am self-employed with an Associate in Business Administration and love to volunteer. I love being a Mom, a Wife, a Woman's Ministry Leader, and a Girl Scout Leader. I have been a Mom since 2001, a Wife since 2007, and a Woman's Ministry Leader since 2010. I have been a Girl Scout Leader for, officially, 7 years but have been working with troops since 2008.
Thank you for taking the time out to read my bio and my 1st Annual Fall Sales Rally experience. Ms. Nachie
Save