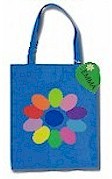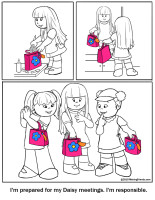 Daisy Responsibility Tote
Daisy Responsibility Tote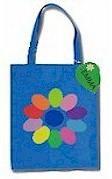 Learn responsibility by bringing the tote to every meeting with your supplies and paperwork. This kit can be purchased separately or as part of our Petal Pack Complete.
You need:

Instructions:
As girls arrive give them a coloring page for the activity.
Push the prongs of the ladybug brad through the foamie leaf. Seperate and bend open ends flat against the leaf. Write or peel and stick your name to the tag. Pin tag to tote.
Optional foamie petals can be glued in place as the girls earn their petals or when they first start the program. Glue will leak through the fabric of the tote bag so make sure to put a piece of wax paper inside before gluing and leave until dry. Fabric glue is recommend for the best hold. You can also use a low temp glue gun or use glue dots if the girls are doing the gluing themselves.