Costa Rica | Ideas for Thinking Day*
These girls made skirts from plastic table cloths to represent the Dominican Republic. Girls representing Costa Rica can use a brightly colored table cloth to create a skirt!Families in Costa Rica are very close. Girls might be surprised to learn that siblings there use each others clothing and personal items, often without asking permission first. Meals are a time for family to be together and most include rice and beans. A variety of fresh fruits and vegetables as well as chicken and fish are part of their diet. Girls might want to try to make arroz con leche (rice with milk, cinnamon stick and usually sugar).
Fun Fact: Bullfighting is different in Costa Rica. It is against the law to stab or hurt the bull in any way.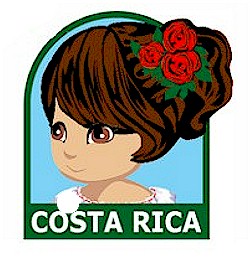 Costa Rica Patch
2″ Embroidered, Iron-on

$0.99
Costa Rica is a small country located between two continents and to oceans. Rainforests cover 25% of the country. Girls will have fun learning about the three different types of rainforests found there: tropical, cloud and tropical dry. Of course they will also want to learn about the diverse wildlife such as the poison dart frog, white headed capuchin monkey, ocelot, three toed sloth, chestnut-mandibled toucan and coati.
Sports are mostly played by boys in Costa Rica but the women's futbol (soccer team) qualified for the World Cup. Surfing is very popular as well. Zip-lining, mountain biking, and white water rafting are all popular, especially with tourists. Canyoning or canyoneering is a popular adventure sport that involves rappelling and water fall jumping. Bullfighting in Costa Rica is very popular. Girls can learn about how bullfighting in Costa Rica is different than in other regions of the world.
Traditional clothing for women include long brightly colored skirts. Blouses are usually white with ruffles coming from the necks trimmed in bright colors. Hair is usually braided with a flower as an accessory. Men usually wear white clothing and hats with brightly colored accent pieces like a belt. Women and men both usually wear leather sandals.
Troops that have been working on any of the "It's Your Planet" JOURNEY*" series, will be impressed to learn that Costa Rica generates most of it's electricity using renewable resources.
Additional ideas can also be found in South American Countries / Thinking Day* Ideas.
*MakingFriends®.com is not affiliated with, endorsed by or a licensee of Girl Scouts of the USA